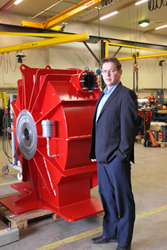 The industries we serve are in a constant state of change and Flowrox will always be leading the way to create solutions that meet their needs
Lappeenranta, Finland (PRWEB) July 15, 2015
Flowrox, a global leader in heavy-duty industrial valve manufacturing and services is introducing Jukka Koskela as its new CEO—a seasoned professional with the knowledge and expertise to lead the company into new avenues of growth and prosperity.
Following a successful career in the energy industry spanning five years, Mr. Koskela brings to Flowrox a wealth of experience and knowledge in global product management, along with a strong reputation for delivering results.
In his first month at Flowrox Oy's headquarters in Finland, Jukka Koskela has already taken the reigns and is running full-steam ahead, communicating across the organization to understand the culture that defines it as a premier valve, pump, systems, and instrumentation manufacturer.
Over the years Flowrox has developed solutions that address general needs in industries where flow process is an important element of their operation, such as the mining industry, but also adapting products to the needs of niche customers, from OEM to aftermarket engineering companies.
Currently, Flowrox products cover a wide variety of applications to include the Minerals & Metallurgy, Oil & Gas, Power Plant, Pulp & Paper, and Municipal Waste Water industries, but growth may come from exploring extended applications in other sectors.
"The industries we serve are in a constant state of change and Flowrox will always be leading the way to create solutions that meet their needs," said Jukka Koskela. "To remain competitive, we must be looking ahead to identify opportunities and challenges before they become a concern."
With an ambitious vision to achieve a revenue goal of 100 million Euros before the end of the decade, Jukka Koskela knows that results can only come from innovation and dedication across the entire organization and he will be engaging Flowrox at all levels to help the company attain it.
As an advocate of sales and tools to support business development efforts, he believes in the implementation of technology to enhance the way Flowrox employees deliver value to customers around the globe.
Koskela also sees the opportunity to grow Flowrox's influence using new communication channels, since connecting in the digital environment has become paramount in industrial marketing and business development efforts.
Understanding the market is an imperative for Flowrox and Jukka Koskela's background is a match for the direction it must follow, particularly in bringing new ideas for product development and increased market segmentation.
ABOUT FLOWROX
Flowrox, Inc. is a leading manufacturer of industrial valves and pumps with over 35 years of experience and hundreds of thousands products installed in facilities across the globe. The company serves the Oil & Gas industry, as well as Mining, Minerals & Metallurgy and Energy & Environment industries. Flowrox also works closely with OEMs to deliver outstanding solutions to support their operation. Additional industries served include Chemical, Pulp & Paper, Cement, and Waste Water Treatment.
For more information about Flowrox, its products and applications please visit http://www.flowrox.com.
FOR MORE INFORMATION:
Email: marketing(at)flowrox(dot)com
Phone: +358 20 111 3311
###