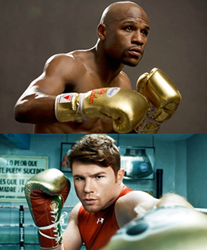 He's [Alvarez] got a lot of fire and I don't believe Mayweather's advantage on that fight will be greater than maybe 2-3 points.
Las Vegas, NV (PRWEB) August 22, 2013
Vinny Furlani, boxing expert and Art of Boxing magazine founder, announced that the Floyd Mayweather Jr. vs. Canelo Alvarez fight might be a lot closer than sports analysts and fans predict, in light of his 10-Point Strategic Boxing System. The boxing expert will present a full review of Mayweather and four other Welterweight fighters in the September issue of Art of Boxing magazine, the premiere source for boxing fans and fighters, now also available on iPhone and iPod Touch devices, through the Newsstand app.
According to Vinny, Mayweather has shown to be one of the world's best fighters. With his fast hands, slick defense and well-executed stance, he said 'Mayweather is a 10-Point fighter through and through.' The revolutionary method developed by Furlani is based on the old school techniques learned from former Olympic Gold Medalist and two-time world champion Floyd Patterson.
Although Floyd "Money" Mayweather Jr. is thought to have significant advantages over Canelo "Cinnamon" Alvarez, Furlani notes that Alvarez may exhibit a few unexpected maneuvers that can throw Mayweather off of his game during the much-anticipated fight on September 14.
"Most reviews are saying Floyd Mayweather Jr. will win, hands down and with flying colors, and that Canelo Alvarez doesn't stand a chance," Furlani said. "But these critics aren't taking into account that Alvarez is an extremely aggressive fighter with a cautious defense—techniques Mayweather hasn't seen or experienced in a long time and may not be fully aware of."
"Canelo Alvarez may be seen as the underdog in this match, but he leverages his punches for more power than Floyd Mayweather Jr. He's naturally bigger and stronger than Mayweather—not to mention almost 15 years younger," Furlani commented. "He's got a lot of fire and I don't believe Mayweather's advantage on that fight will be greater than maybe 2-3 points."
The September issue of Art of Boxing magazine will also cover Point 5 of the 10-point system—the Upper Cut.
"A lot of fighters today throw punches incorrectly, with no technique," Furlani specified. "Boxers leave their head wide open. But with the discipline of the 10-Point System, there's little room for that type of error."
To make his expertise and the many advantages of well-executed boxing techniques more accessible, Furlani also announced the recent launch of a video series project entitled "Train Like A Champ", which will introduce exercises based on the efficient 10-Point Strategic Boxing System. The inaugural video is scheduled for completion this fall.
In addition, Furlani has just agreed to endorse Automatic Body by Nutrié, a line of nutrition supplements that he considers ideal for those seeking optimum physical conditioning – in boxing and in general. The Nutrié products are designed by Kim Lyons, former trainer on NBC's Biggest Loser, featured on Dr. Phil's Weight Loss Challenge, and The Dr. Oz Show. More information about Automatic Body by Nutrié can be found at http://vincentfurlani.automaticbody.com/.
More details about Vinny's current and future projects as a boxing expert can also be obtained through a recent interview for the SiriusXM radio show, "Friday Night at the Fights", which can be accessed here. Alongside Tracy Patterson, during the interview Furlani introduced the 10-point system and confirmed the partnership with Patterson on the upcoming video series and book projects, both based on the 10-point System.
To learn more about Vinny Furlani and the '10-Point Strategic Boxing System', or subscribe to Art of Boxing Magazine, fans and fighters can visit http://www.ArtofBoxingMag.com.
About Art of Boxing Magazine
Art of Boxing is an electronic monthly magazine, and the premiere source of boxing tips, news, calendar and rankings, for fans and fighters at all levels. Subscribers can gain access to current and past issues through the iPad, iPhone or iPod Touch Newsstand app. The main sections of the magazine are "Vinny's Corner", where each month founder and boxing expert Vinny Furlani discusses one of the steps of his '10-Point Strategic Boxing System'; "Where Are They Now", which brings information on boxing figures' recent activities; "Featured Celebrity", highlighting the accomplishments of a selected personality in the industry; in addition to the "Health and Nutrition" and "Fighter Rankings"sections. More information is available at http://www.ArtofBoxingMag.com.