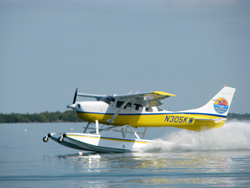 Showcase of Businesses exhibitor again...
Key West, FL (PRWEB) September 28, 2014
Key West Seaplanes® and The Key West Chamber of Commerce's 26th Annual "Showcase of Businesses" make news again. Key West Seaplanes® participates again in this popular trade show for the 5th year in a row, showing support for local commerce.
The 26th Annual "Showcase of Businesses" took place on September 17, 2014 at the Waldorf Astoria Casa Marina Resort in Key West. The event, which is open to the public during the day attracted several hundred people wanting to learn more about local businesses such as Key West Seaplanes® and the air charter services they offer. The event was attended by many in the business and tourism community as well as residents of Key West. Of those in attendance, Key West Seaplanes® was again a part with t-shirt giveaways and information about their seaplane charter services and sightseeing flights of Key West.
The trade show was also then open to members only of the Key West Chamber of Commerce for an "Business After Hours" event that benefits the Chamber of Commerce. This after hours event was sponsored by the Waldorf Astoria Casa Marina Resort in Key West.
Key West Seaplanes® was formed in 2009 by long term local residents Julie Ann Floyd and Nikali Pontecorvo. The duo and their exclusive seaplane charter company joined the Key West Chamber of Commerce shortly after and have been active members since that time. Floyd states "We are proud members of the local business community and have been here in Key West as full-time residents for over 30 years combined. We really know the importance of supporting other local businesses and enjoy taking part in annual Showcase of Businesses every year. We really look forward to it!".
Key West Seaplanes® air charter services provide seaplane charters to all the state of Florida, including seaplane charters to/from Miami, Ft. Lauderdale, Naples, West Palm Beach and beyond. Floyd adds "We provide charter flights for all the state of Florida, The Florida Keys, The Bahamas and Caribbean with some of our most popular seaplane flights to Little Palm Island. There's no better way to get there than by seaplane with Key West Seaplanes®".
For guests looking for the most versatile way of traveling, Key West Seaplanes® boasts a fleet of impeccable amphibious seaplanes. Floyd states "Amphibious means that our seaplanes land on water and also on land. So, housed up inside the seaplanes' floats are sets of gear that are deployed by the pilot that allow our seaplanes to land on runways, too. So, if you want to fly from Miami to Little Palm Island, we meet you right at Miami International or Tamiami or even Opa Locka airports. There is no need to drive or ride from the airport to another location. We are right at the airport!"
Key West Seaplanes® is preparing for another winter season of helping people escape from the north, en route to tropical destinations such as Key West, Little Palm Island, Bimini and all of The Bahamas. All flights are private charters in gorgeous aircrafts that include Grand Champion Seaplane and Reserve Grand Champion Seaplane award-winning seaplanes.
The company is based in Key West and was formed in 2009. They also offer private airplane charters as well as sightseeing seaplane flights of The Florida Keys and surrounding areas.They have also received many accolades on TripAdvisor, numerous feature articles in Florida Travel and Life and have also appeared in the American Express publication, "Departures". Recent TV appearances have included "Trip Flip" and other publication features have included the ultra-exclusive Worth Magazine in which Key West Seaplanes® to Little Palm Island service was featured.