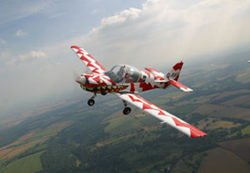 If you want to do something you will never forget, I wouldn't go anywhere else but on these aerobatic experiences
(PRWEB UK) 25 April 2014
FlyDays.com has just announced new Aerobatic Flight experiences throughout the UK. These fantastic flying experiences offer an adrenaline rush like no other and make the perfect gifts for the adrenaline seeker!
Watched the Red Bull air race or are a fan of films such as Top Gun or aerobatic flights? Now's the chance to have a go in some of the specially designed aerobatic planes, custom built to push the limits of flying to the edge. These aren't for the faint hearted as participants bodies will be pushed to their limits experiencing 5G!
Not content with just being passenger? Why not have a go at the aerobatic flying lesson packages where thrill seekers will be taught maneuvers such as the barrel roll, loops rolls and even spins. Some of the venues even offer air combat simulations to make an unforgettable flying experience. These packages are truly like no other and are a definite "bucket list" experience!
Locations include as well as many others.
West Midlands
Essex
Surrey
Staffordshire
Leicestershire
Cambridgeshire
Devon
Gloucestershire
Imran Malek Operations Manager of FlyDays.co.uk said "If you want to do something you will never forget, I wouldn't go anywhere else but on these aerobatic experiences"
Visit FlyDays.co.uk for more information on these aerobatic packages or for flying lessons and helicopter experiences.