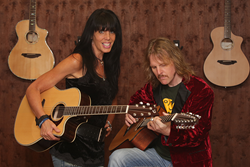 Danbury, CT (PRWEB) January 17, 2015
Legendary guitarist and 2015 Rock n' Roll Hall of Fame Inductee Ricky Byrd, best known as a founding member of Joan Jett and the Blackhearts, will perform with Amy Madden, bassist for John Lee Hooker and Liberty DeVitto, drummer with Billy Joel, in their amazing Blues Trio configuration as part of the Grand Opening launch party of Flying Key Entertainment. On Saturday, January 31st at 7:00 pm, Flying Key Entertainment, Connecticut's newest full service entertainment company with a mission to help aspiring and established artists, will host a free concert at Fast Eddie's Billiards Café, 46 Old State Rd New Milford, CT.
Artists are encouraged to bring their information to submit for consideration to the event. "This is an amazing opportunity for area music lovers to enjoy top shelf Hall of Fame entertainment while giving artists the chance to meet and greet company reps that can help them move to the next level," said National Recording Artist and company partner Lucinda Rowe.
Lucinda is a 25 year veteran of the music industry having spent 12 years in music management in addition to managing her own very successful grassroots singer/songwriter career along with Michael Connolly. The evening will include a performance by National Recording Artist Lucinda Rowe and Michael Connolly along with their full band.
"Achieving the next step is usually the hardest thing for any artist to accomplish. Navigating the entertainment industry takes more than just a strum on the guitar strings," adds Lucinda Rowe.
Lucinda Rowe formed Flying Key Entertainment with partners Michael Connolly, world renowned photographer/designer Laura Landau and Anthony Raiani; Business Entrepreneur and Philanthropist. The group will help artists at all levels hone their craft, discover the right personal image for their music, showcase their original works and work their way onto the artist roster of the company which includes Ricky Byrd and local artists on the rise.
"The partners of Flying Key Entertainment have all been immersed in the entertainment industry on every level. We know the pitfalls. We've experienced the rise and fall of the recording industry and understand how to engage an audience. We have some of the best industry advisors and intellectual property attorneys available to us," adds Rowe "Our fee structure is based solely on exactly what each artist may need to move forward. We understand the term 'starving artist' and know how important every dollar is to someone trying to make it in this business."
Based in Fairfield County, Connecticut- Flying Key Entertainment offers aspiring artists coaching in guitar, bass, vocals, songwriting, artist imaging, drums, live production and performance, graphic design and photography/videography, onsite CD and DVD duplication, booking and artist management and the opportunity to record in a fully functional 70's vintage analog 8 track recording studio or pro-tools multitrack studio.
The event on January 31, 2015, no cover; doors open at 7:00 pm. Show starts at 8:00 pm. Guests under 21 admitted with Parent or Guardian (No exceptions). Artists are encouraged to bring a CD, press kit or one sheet to submit for artist consideration by the company or mail to Flying Key Entertainment, PO BOX 8094, New Fairfield, Connecticut 06812. For more information call 203.241.0068 or visit http://www.flyingkeyentertainment.com.