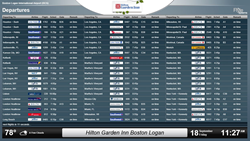 CHICAGO, IL (PRWEB) September 24, 2015
Flyte Systems announced that the newly opened Hilton Garden Inn Boston Logan Airport will install the FlyteBoard real-time airline flight schedule display to simplify guest travel plans. Flyte Systems is the leading provider of cost effective airport travel information displays and digital signage content for the hospitality, corporate training centers, digital signage, convention center industries and related businesses. Click here to request information on Flyte Systems' airport travel and guest information services.
Hilton Garden Inn Boston Logan Airport is located one mile from Logan International Airport and provides a complimentary 24-hour shuttle service to the airport, MBTA Subway and local area businesses. The new hotel, owned and managed by First Bristol Corporation, offers high-end amenities and welcoming services for travelers to sleep deep, stay fit, eat well and work smart while on the road.
"Our new property offers every convenience for travelers in Boston. The FlyteBoard flight information display will give guests a more relaxed travel experience," said Kevin Buchanan, general manager. "They will be able to simply look at the FlyteBoard for accurate flight information. No need to pull out their handheld to search for flights online."
"The Hilton Garden Inn Boston Logan Airport is a leader in providing travel amenities that make a difference to guests," said Scott Triphahn, Flyte Systems VP. "Today's millennial travelers are digital natives. They prefer to get information from screens, not people. Flyte Systems' solutions, like FlyteBoard provide the information they want instantly, and accurately. Flyte Systems gives today's travelers instant options that shape their experience."
"Flight information displays provide value to many areas of our operation besides being a valuable guest service," Buchanan said. "Even our night auditor uses it to estimate due-in guests based on airline delays and cancellations. Plus, guests can extend their stay if their flight is cancelled. Everyone wins."
Flyte Systems provides low-cost, real-time flight information
Flyte Systems' suite of products that serve the traveling public includes:

FlyteBoard is a wall, floor, or ceiling-mounted flat panel screen for lobbies, restaurants, bars, and other public areas. FlyteBoard displays flight information for one or more airports.
FlytePass combines FlyteTouch with free, secure boarding pass printing. It is available as a standalone unit, or neatly packaged in either an all-wood kiosk or an integrated metal kiosk to match your décor.
FlyteTouch enables individual guests to search flight information using an interactive touch screen that displays real-time flight arrivals and departures for one or more airports.
FlyteChannel permits guests to view live airport flight information conveniently and comfortably from their in-room television.
FlytePad is a mobile-ready service that delivers real-time airline information via the iPad.
EventDisplay displays user-configurable meetings and events on screens shared with flight information or on its own dedicated screen.
EventChannel shows property events and specials on the guest's TV.
AmenityBoard lets hotels display profitable amenities anywhere.
InfoBoard is a cost-effective touch screen display that saves labor, provides greater guest service, and generates revenue with flight information and so much more.
Many hotels and resorts also use Flyte Systems' applications to increase revenue with innovative marketing approaches for distressed travelers. For tips on how to generate revenue by providing guests with Flyte Systems airline information, please log on to the Flyte Systems website at http://www.flytesystems.com.
About Flyte Systems
Flyte Systems is a division of Industrial Television Services (ITS), based in Chicago. ITS is a leading digital signage solutions company with more than 50 years of experience specializing in real-time information delivery. Flyte Systems was formed in 2007 to offer real-time, web-based travel technology solutions. Flyte Systems provides subscription-based, environmentally responsible airport flight information and digital signage displays for the hospitality, convention center, and digital signage industries and related businesses. The company's solutions deliver accurate, instant, airport-centric updates of flight information – not just FAA-provided departure times that may be inaccurate when there is a ground delay. Flyte Systems solutions enable properties to differentiate themselves and boost repeat business with 'glance-and-go' content and property promotions. Its products use Energy Star-compliant digital displays to help significantly reduce energy consumption and eliminate unnecessary trips to the airport. Clients include Marriott, Hyatt, Hilton, Starwood, Westin, IHG, Days Inn, Hotel Sofitel, independent properties, convention centers, and transportation centers.
About Hilton Garden Inn Boston Logan
Hilton Garden Inn is the award-recognized, peaceful and energizing hotel brand that continually strives to ensure today's busy travelers are appreciated and have everything they need to be most productive on the road. Hilton Garden Inn offers the amenities and services for travelers to sleep deep, stay fit, eat well and work smart during their stay. Approachable and professional team members operating at nearly 640 hotels around the world are committed to providing a welcoming and dependable hotel experience for every guest, every time which is reflected in the satisfaction promise to do whatever it takes to ensure every guest is satisfied, or they don't pay. HHonors members who book directly through preferred Hilton channels have access to benefits including free standard Wi-Fi, as well as digital amenities that are available exclusively through the industry-leading Hilton HHonors app, where HHonors members can check-in, choose their exact room from a digital floor plan and customize their room prior to arrival with amenity requests. Visit http://www.hgi.com or news.hgi.com for more information about our locations.