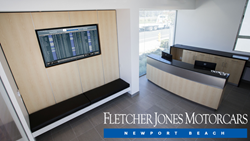 We added FlyteBoard real-time airline flight information displays and FlytePass boarding pass printing as personal amenities that deliver a new level of convenience for our airport bound guests.
CHICAGO, IL (PRWEB) July 29, 2015
Flyte Systems announced Fletcher Jones Motorcars of Newport Beach, CA, the Nation's Premier Mercedes-Benz Dealership, added the FlytePass boarding pass printing and FlyteBoard airport flight information display to its Preferred Client travel services. This added amenity will be provided at their exclusive Airport Lounge for their preferred guests flying out of nearby John Wayne Orange County Airport. Click here to request information on Flyte Systems' airport travel and guest information services.
"Our dealership provides a range of services for Fletcher Jones Preferred Owners who travel to and from John Wayne Orange County Airport," said Larry Lewis, Fixed Operations Director at Fletcher Jones Motorcars of Newport Beach. "We added FlyteBoard real-time airline flight information displays and FlytePass boarding pass printing as personal amenities that deliver a new level of convenience for our airport bound guests."
As part of its Preferred Owner Benefits program Fletcher Jones Motorcars provides their clients with a Platinum Card that entitles them to complimentary airport shuttle service, long term parking, car washes and use of the guest lounge area with an array of amenities such as work stations, Wi-Fi, bottled water, and Starbucks coffee and tea. "Our goal is to provide a seamless travel experience for our Preferred Guests," Lewis said. "We arrange a smooth ride to the airport in our branded shuttles and provide a complimentary car wash and long term parking while they are out of town. The travel services we provide are worth thousands of dollars to our clients and now with the added convenience of Flyte Systems airline schedules and boarding passes, we hope to save our guests even more time while delivering a World Class Experience."
Flyte Systems vice president Scott Triphahn said, "Fletcher Jones Motorcars is a perfect example of how many businesses understand the value of customer travel services. As air travel becomes busier and delays commonplace, it is essential to know your air carrier's schedule. Flyte Systems' real-time airport information display systems can make the difference between an enjoyable travel day and one spent waiting to make alternate flight arrangements. When travelers confirm that their carrier's departure plans are on schedule, they travel more confidently. Flyte Systems provides that confidence."
Flyte Systems is the leading provider of cost effective airport travel information displays and digital signage content for the hospitality, corporate training centers, digital signage, convention center industries and related businesses.
Flyte Systems provides low-cost, real-time flight information
Flyte Systems' suite of products that serve the traveling public includes:

FlyteBoard is a wall, floor, or ceiling-mounted flat panel screen for lobbies, restaurants, bars, and other public areas. FlyteBoard displays flight information for one or more airports.
FlytePass combines FlyteTouch with free, secure boarding pass printing. It is available as a standalone unit, or neatly packaged in either an all-wood kiosk or an integrated metal kiosk to match your décor.
FlyteTouch enables individual guests to search flight information using an interactive touch screen that displays real-time flight arrivals and departures for one or more airports.
FlyteChannel permits guests to view live airport flight information conveniently and comfortably from their in-room television.
FlytePad is a mobile-ready service that delivers real-time airline information via the iPad.
EventDisplay displays user-configurable meetings and events on screens shared with flight information or on its own dedicated screen.
EventChannel shows property events and specials on the guest's TV.
AmenityBoard lets hotels display profitable amenities anywhere.
InfoBoard is a cost-effective touch screen display that saves labor, provides greater guest service, and generates revenue with flight information and so much more.
Many hotels and resorts also use Flyte Systems' applications to increase revenue with innovative marketing approaches for distressed travelers. For tips on how to generate revenue by providing guests with Flyte Systems airline information, please log on to the Flyte Systems website at http://www.flytesystems.com.
About Flyte Systems
Flyte Systems is a division of Industrial Television Services (ITS), based in Chicago. ITS is a leading digital signage solutions company with more than 50 years of experience specializing in real-time information delivery. The ITS suite of products include the Service Board enabling auto dealerships to inform customers of the service status of their vehicles while displaying current service and sales promotions. Flyte Systems was formed in 2007 to offer real-time, web-based travel technology solutions. Flyte Systems provides subscription-based, environmentally responsible airport flight information and digital signage displays for the hospitality, convention center, and digital signage industries and related businesses. The company's solutions deliver accurate, instant, airport-centric updates of flight information – not just FAA-provided departure times that may be inaccurate when there is a ground delay. Flyte Systems solutions enable properties to differentiate themselves and boost repeat business with 'glance-and-go' content and property promotions. Its products use Energy Star-compliant digital displays to help significantly reduce energy consumption and eliminate unnecessary trips to the airport. Clients include Marriott, Hyatt, Hilton, Starwood, Westin, IHG, Days Inn, Hotel Sofitel, independent properties, convention centers, and transportation centers.