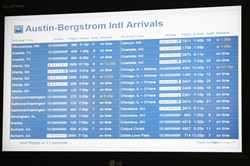 At the Austin Convention Center we continually look for ways to offer better service to our clients and attendees, which is why Flyte Systems' digital flight arrival/departure boards appealed to us.
(PRWEB) September 19, 2013
Flyte Systems announced the Austin Convention Center installed its FlyteBoard real-time airline schedule display to give event attendees accurate flight information for greater travel confidence. FlyteBoard's high-definition flat screen shows departure and gate information for Austin-Bergstrom International Airport. Flyte Systems is the leading provider of airport travel information displays and digital signage content for the hospitality industry, digital signage providers, convention centers, and related businesses. Click here to request information on Flyte Systems' airport travel and guest information services.
"Austin Convention Center is a destination for hundreds of conferences; over a million attendees travel to it by air annually," said Scott Triphahn, Flyte Systems vice president." Our FlyteBoard provides conference attendees with real-time airline flight departure information that lets them spend as much time at their event as possible. If they see their flight is delayed, they can delay their departure to the airport with confidence."
Flyte Systems give Austin CC attendees convenience, better service
"At the Austin Convention Center we continually look for ways to offer better service to our clients and attendees, which is why Flyte Systems' digital flight arrival/departure boards appealed to us," said Paul Barnes, assistant director of the Austin Convention Center Department. "This added convenience has been greatly appreciated by our clients, who have also heard positive feedback from their attendees."
The FlyteBoard is located in the Austin Convention Center's central Business Center for convenient viewing by attendees. The easy-to-read FlyteBoard resembles the familiar flight schedule displays found in most airports. Flight Systems is a division of ITS which provides flight information displays for many large international airports.
Austin Convention Center is rated one of the most technologically-advanced convention centers in the country, this gigabit-rated facility moves voice, video and data at more than one-billion bits per second. In-house services include complimentary wireless Internet access, high-speed Internet2 access, plug-and-play capabilities and on-site technical staff. The Convention Center has 881,400 gross square feet and covers six city blocks. Facilities include 5 Exhibit Halls with nearly 250,000 sq. ft. of column-free exhibit space, 7 ballrooms, and 54 meeting rooms. The 7 ballrooms range in size from 3,896 to one of the largest in Texas at 40,510 sq. ft.
Real-time Flight Information
Flyte Systems offers a suite of products that serve the traveling public: FlyteBoard, FlytePass, FlyteChannel, FlyteTouch, FlytePad with handheld airline information, and InfoBoard that combines airline flight information with total property way finding, weather, traffic, area attractions and much more.

FlyteBoard is a wall, floor, or ceiling mounted high-definition, flat panel screen for lobbies, restaurants, bars, and other public areas, displaying flight information for one or more airports.
FlytePass combines FlyteTouch with free, secure boarding pass printing. It can be provided as a standalone or neatly packaged in either an all wood kiosk or an integrated metal kiosk to match your décor.
FlyteChannel permits guests to view live airport flight information conveniently and comfortably from their in-room television.
FlyteTouch enables individual guests to search flight information using an interactive touch screen that displays real-time flight arrivals and departures for one or more airports.
FlytePad is a mobile-ready service that delivers real-time airline information via the iPad, enabling hotel staff to provide guests with airline information anywhere and anytime.
InfoBoard is a cost-effective touch screen display that saves labor, provides greater guest service, and generates revenue with flight information and much more.
Many hotel properties also use Flyte Systems' applications to increase revenue with innovative marketing approaches for distressed travelers. For tips on how to generate revenue by providing guests with Flyte Systems airline information, please logon to the Flyte Systems website at http://www.flytesystems.com.
About The Austin Convention Center
The Austin Convention Center is a LEED® Gold certified building located in the heart of the capital of Texas, one of the most affordable cities in America. The convention center has a convenient downtown location, between the shores of Lady Bird Lake and historic Sixth Street. It has easy access to I-35 and is a short distance from 7,000 downtown hotel rooms. The facility's expansion has allowed events to expand their conventions, trade shows and expos. It has also brought new conventions and visitors to Austin and its convention center.
About Flyte Systems
The Flyte Systems Division of Industrial Television Services (ITS), based in Chicago, Illinois, is the leading provider of subscription-based environmentally responsible airport flight information displays for the hospitality, convention center and digital signage industries, and related businesses. It delivers accurate, airport-centric updates of flight information – not FAA-regulated scheduled departure times that may omit last minute changes. Properties differentiate themselves and boost loyalty and repeat business with 'glance-and-go' content essential to a traveler's day. Flyte Systems' products build upon ITS' 50-year history as the leading provider of live flight information to airports, airlines, government agencies, port authorities and other travel-based businesses. Flyte Systems was formed in 2007 to offer Web-based travel technology and products. In addition to using Energy Star-compliant digital displays, Flyte products help significantly reduce energy consumption by eliminating unnecessary trips to the airport. Clients include Marriott, Hyatt, Westin, Embassy Suites, Holiday Inn, Days Inn, Hilton, Doubletree, Hotel Sofitel, Adam's Mark, Renaissance and Crowne Plaza hotels, independent properties, convention centers and transportation centers.