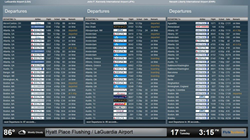 Guest love the travel convenience FlyteBoard provides. They trust their travel plans while they are on property because of the FlyteBoard's familiar arrival and departure display.
Chicago, IL (PRWEB) June 19, 2014
Flyte Systems announced that the Hyatt Place Flushing/LaGuardia Airport Hotel installed the FlyteBoard real-time airport flight information display solution. FlyteBoard at the Hyatt Place shows airline arrivals and departures for the JFK, LaGuardia, and Newark International Airports for greater guest convenience. Flyte Systems is the leading provider of cost effective airport travel information displays and digital signage content for the hospitality industry, digital signage, convention centers and related businesses. Click here to request information on Flyte Systems' airport travel and guest information services.
Guests get reliable glance-and-go travel information without apps
"Guest love the travel convenience FlyteBoard provides. They trust their travel plans while they are on property because of the FlyteBoard's familiar arrival and departure display," said Tony Schatz, general manager of Hyatt Place Flushing/LaGuardia Airport Hotel. "Our guests can easily see real-time airline flight information for our three airports without using a third-party app. Plus, the three-airport capability is valuable since most of our guests travel by air." Flyte Systems is the only full service flight information display solution that provides real-time departure information.
Schatz noted that the property's parent company recommended the FlyteBoard implementation for his property. "Our biggest demand generator is LaGuardia Airport for our business travelers. When group meeting planners do site visits they are impressed we provide this service."
With its opening on May 29, 2014, the property became the first Hyatt-branded hotel in Queens, New York. "Hyatt Place Flushing/LaGuardia Airport is centrally located in the heart of one of the most dynamic neighborhoods in New York City, and we're looking forward to creating a positive experience for each and every guest that walks through our doors," said Schatz.
Flyte Systems provides real-time flight information
Flyte Systems offers a suite of products that serve the traveling public: FlyteBoard, FlytePass, FlyteChannel, FlyteTouch, FlytePad with handheld mobile airline information, and EventBoard. The company's latest innovation is InfoBoard, which combines airline flight information with total property way finding, weather, traffic, area attractions, and much more.

FlyteBoard is a wall, floor, or ceiling mounted high-definition, flat panel screen for lobbies, restaurants, bars, and other public areas, displaying flight information for one or more airports.
FlytePass combines FlyteTouch with free, secure boarding pass printing. It can be provided as a standalone unit, or neatly packaged in either an all-wood kiosk or an integrated metal kiosk to match your décor.
FlyteChannel permits guests to view live airport flight information conveniently and comfortably from their in-room television.
FlyteTouch enables individual guests to search flight information using an interactive touch screen that displays real-time flight arrivals and departures for one or more airports.
FlytePad is a mobile-ready service that delivers real-time airline information via the iPad, enabling hotel staff to provide guests with airline information anywhere and anytime.
EventBoard displays user-configurable meetings and events on screens shared with flight information or its own dedicated screen.
InfoBoard is a cost effective touch screen display that saves labor, provides greater guest service, and generates revenue with flight information and so much more.
Many hotel properties also use Flyte Systems' applications to increase revenue with innovative marketing approaches for distressed travelers. For tips on how to generate revenue by providing guests with Flyte Systems airline information, please log on to the Flyte Systems website at http://www.flytesystems.com.
About Flyte Systems
The Flyte Systems Division of Industrial Television Services (ITS), based in Chicago, Illinois, is the leading provider of subscription-based environmentally responsible airport flight information displays for the hospitality, convention center, and digital signage industries and related businesses. It delivers accurate, instant, airport-centric updates of flight information – not FAA-regulated scheduled departure times that may omit last minute changes. Properties are able to differentiate their products and boost customer loyalty and repeat business with 'glance-and-go' content critical to a traveler's day. Flyte Systems' product suite builds upon ITS's 50-year history as the leading provider of live flight information to airports, airlines, government agencies, port authorities, and other travel-based businesses. Flyte Systems was formed in 2007 to offer new web-based travel technology and product lines. In addition to using Energy Star-compliant digital displays, Flyte products help significantly reduce energy consumption by eliminating unnecessary trips to the airport. Customers include Marriott, Hyatt, Westin, Embassy Suites, Holiday Inn, Days Inn, Hilton, Doubletree, Hotel Sofitel, Adam's Mark, Renaissance and Crowne Plaza hotels, independent properties, convention centers, and transportation centers.
Hyatt Place Flushing/LaGuardia Airport Leadership
Hyatt Place Flushing/LaGuardia Airport is under the leadership of General Manager Tony Schatz and Director Of Sales Maria Maloney. Schatz is responsible for managing the day-to-day operations of the hotel, including overseeing the hotel's 60 associates and ensuring guests encounter the authentic hospitality experience for which Hyatt Place is known. Maloney is responsible for providing sales service and support to guests and meeting planners frequenting the Queens and greater New York City area, as well as serving as liaison to the community and local organizations. Please click here for more information.