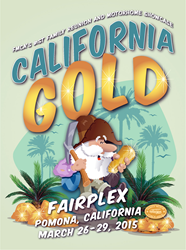 Pomona, Calif. (PRWEB) February 25, 2015
The motorhome exhibition, which will take place Thursday, Friday, Saturday, and Sunday, March 26, 27, 28, and 29, is part of a convention of an international motorhome owners club, Family Motor Coach Association, based in Cincinnati.
On Thursday, March 26, from 5 to 8:30 p.m., a special preview of only the motorhome exhibits will take place. Regular hours for the motorhome displays will be 9 a.m. to 5 p.m. on Friday, Saturday, and Sunday, March 27, 28, and 29. Hours for the displays of RV accessories, supplies, and components will be 9 a.m. to 4 p.m. on March 27, 28, and 29.
Major motorhome manufacturers and dealers will be bringing new motorhomes to Pomona for convention attendees to tour. Plus, companies will display their wares inside Fairplex Building 5 and Building 8, making available RV accessories, components, supplies, campground information, and more.
The daily fee for viewing motorhomes and booth displays is $7 per person plus parking; children 12 and under admitted free when accompanied by an adult. Individuals with an active military ID will be admitted free also.
A Daily Passport that provides admittance to the exhibits, all RV seminars, and entertainment is available for $65 per person ($55 for FMCA members). The admission fee on Thursday covers admission on Friday as well.
Public parking will be available at the Fairplex Sheraton Hotel and Conference Center; follow the "Public Gate Parking" signs.
Those who own a motorhome or other self-contained RV are invited to take part in all of the activities and also to bring their RV and stay with the rest of the group at Fairplex. The gate price for non-FMCA members is $275 per RV (with two people); this non-member fee automatically grants the RV owner a one-year FMCA membership or Family Motor Coaching magazine subscription. The FMCA member gate registration price is $225.
Convention attendees will be able to check out the latest features and innovations that are available in motorhomes. Some of the motorhome exhibits will feature production-line units, and others will demo custom-built coaches for uses ranging from family camping to transporting high-tech business equipment, or for use as conference coaches. A great variety of motorhome styles and a broad price range will be represented.
Motorhomes are a popular travel option. According to a recent consumer study conducted by the University of Michigan, U.S. ownership of RVs has reached record levels. Nearly one in 12 U.S. vehicle-owning households now owns an RV.
In addition, the potential for future growth in RV ownership in general in the United States is considerable. Sales of recreation vehicles are expected to increase as baby boomers move into their prime RV-buying years.
Industry officials believe that the advantages of RV travel in today's climate will help to drive market growth. Families want to spend quality time together and prefer the greater freedom, flexibility, control, and comfort RVs provide. Younger consumers and empty-nesters as well are realizing the advantages of RVing over other forms of travel.
The RV exhibition is just one element of the Family Motor Coach Association motorhome owners convention. Thousands of motorhome owners will travel from across North America in their rolling homes to take part in the event, and some 6,000 people will be on hand. The convention will include seminars on topics relative to RVing; topflight entertainment; and various social events.
For more information, visit FMCA.com or call (800) 543-3622.
About Family Motor Coach Association • Enhancing The Motorhome Lifestyle
Family Motor Coach Association (FMCA) is an international organization for families who own and enjoy the use of self-contained, motorized recreation vehicles known as motorhomes. The association maintains its national headquarters in Cincinnati, Ohio, and currently has nearly 75,000 active member families. FMCA offers its members a number of benefits, including a subscription to its monthly magazine, Family Motor Coaching; a medical evacuation and travel assistance program valued at $105 per family; group rates on a roadside assistance program and on motorhome and auto insurance; discounted rates for RV tours and caravans; and a tire purchasing program. Perhaps the most important benefit of FMCA membership is the camaraderie and friendships that develop among people enjoying the common interest of motorhome travel and recreation. The organization can be reached at (513) 474-3622 or (800) 543-3622 and on the Web at FMCA.com.