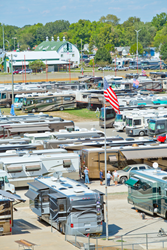 Attending an FMCA convention and RV expo is a great way to learn more about the RV lifestyle...
Cincinnati, Ohio (PRWEB) April 21, 2017
Plans are taking shape for Family Motor Coach Association's 96th International Convention and RV Expo, scheduled for July 12 through 15, 2017, at the Indiana State Fairgrounds and Event Center in Indianapolis. An early-bird discount of $30 is available to anyone who registers on or before May 12, 2017.
An FMCA convention and RV expo features displays of the latest motorhomes and nearly every conceivable item to put in, on, or under a home on wheels. Other activities include seminars — approximately 100 different topics —covering everything from motorhome chassis maintenance to smartphone usage while traveling.
"Attending an FMCA convention and RV expo is a great way to learn more about the RV lifestyle and also to meet some really nice people from all across North America who come together because of their love of RV travel," said FMCA national president Charlie Adcock. "I've learned so much from attending FMCA conventions over the years and from spending time with other RVers. FMCA members always seem willing to share information and to help one another."
A variety of registration options are available – ranging from a $10 single-day pass that provides admission only to the exhibits to a $195 full-access pass that enables the attendee to bring their RV and stay right at the fairgrounds and enjoy all of the activities in the company of others who share a passion for the RV lifestyle. Owners of motorhomes and self-contained towable RVs are invited to join the fun.
With so much going on at an FMCA event, one common complaint afterward is that attendees didn't have enough time to do everything they wanted to. One solution is to sign up for RV Basics. This two-day workshop led by RV experts takes place right at the convention site before the event itself starts. The RV Basics course is designed for those new to the RV lifestyle or even those just contemplating the idea, as well as more seasoned RVers looking to brush up on their knowledge. The cost for the two days of classes and two nights of camping is $250 per person or $400 per couple. To learn more, visit http://www.FMCA.com/academy.
To register for the convention, RV Basics, or both, visit http://www.FMCA.com/conventions-64/indianapolis-2017/family-registration.html or call (800) 543-3622.
Family Motor Coach Association (FMCA) is an international organization for families who own and enjoy the use of self-contained, motorized recreation vehicles known as motorhomes. The association maintains its national headquarters in Cincinnati, Ohio, and currently has approximately 70,000 active member families. FMCA offers its members a number of benefits, including a subscription to its monthly magazine, Family Motor Coaching; a medical evacuation and travel assistance program valued at $105 per family; group rates on a roadside assistance program and on motorhome and auto insurance; discounted rates for RV tours and caravans; and a tire purchasing program. Perhaps the most important benefit of FMCA membership is the camaraderie and friendships that develop among people enjoying the common interest of motorhome travel and recreation. The organization can be reached at (513) 474-3622 or (800) 543-3622 and on the Web at FMCA.com.