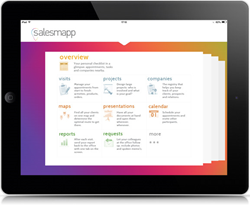 Turning prospects into customers is no longer about selling them a product, but about helping them be successful.
Capelle aan den IJssel, Netherlands (PRWEB) January 12, 2015
After years of working with small and large companies in the FMCG market, the Datlinq Group says it has identified the top three problems for every sales organization: finding new prospects, getting them on board and working with complex systems. Now Datlinq intends to solve all three with a tool named Salesmapp, an all-in-one concept that combines a digital app with ready-to-use prospect lists categorized by market segment.
Datlinq designed Salesmapp to harness the power of big data. By using smart targeting algorithms to extract meaning from the vast information available online, the tool helps sales reps identify those prospects with the highest chance of becoming clients. "We provide salespeople with pre-vetted lists so they don't have to spend valuable time finding and then qualifying prospects themselves," says Peter Liesting, founder and co-owner of the Datlinq Group. "Using Salesmapp, our clients can even tag outlets and filter their results on the ones with the highest potential."
Salesmapp also addresses a second sales bottleneck: the administrative workload in the average account manager's daily routine. "Sales reps normally hate reporting on visits or following up on a visit with a customer," Liesting says. "We believe much of that work can be done elsewhere in the organization, by someone who is better at it—and cheaper. Moreover, less effort can in fact lead to better results: by spending less time on administrative tasks, you boost your sales by spending more time with customers." Salesmapp's collaborative design lets sales reps focus on essential reporting tasks and engage their support teams to do the rest.
As is fitting for a digital tool, Salesmapp embraces twenty-first-century sales wisdom. "Turning prospects into customers is no longer about selling them a product, but about helping them be successful," Liesting explains. "Our method is based on activation: a supplier should help you optimize your location for—and through—their products, so that you sell the maximum. It's a modern method based in timeless common sense: if your customer sells more, so do you." Liesting's handbook on Salesmapp's "perfect store" method will be released in 2015.
Datlinq has high hopes for Salesmapp. "We worked with several of our key accounts, including Red Bull and Friesland Campina, and other small and large players in the FMCG market to develop Salesmapp," says Liesting. "Our goal is to make the app and additional services accessible and affordable for sales reps worldwide. We've already achieved the first milestone: an all-in-one version for individual users called the Personal Assistant." The tool launched in December 2014 and Datlinq reports that hundreds of salespeople are already using it in their daily work.
More information about Salesmapp is available at http://www.salesmapp.eu, where those interested can download a trial version of the app and read about additional services, or by writing to info(at)salesmapp(dot)eu.
About the Datlinq Group
For 15 years, Datlinq has been using the power of data and new technology to help its clients raise sales and lower costs. Datlinq creates digital tools that provide the user with rapid insight into FMCG markets and ways to take effective action. Datlinq's goal is to help its clients achieve greater distribution, visibility and brand activation.
Media contact
Lieke van Gestel
Chief of operations
http://www.salesmapp.eu
lieke(at)salesmapp(dot)eu