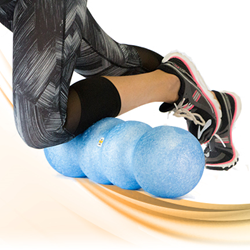 At first, I thought it was just a marketing gimmick. But it really isn't, because that simple change allows that roller to get behind the Tibia. Dr. Roberts
Saint Cloud, MN (PRWEB) May 18, 2017
Running through shin splints can be terribly painful and difficult. Most runners do not have the intestinal fortitude to purge through the agonizing pain and discomfort. Where does the pain stem from? "Most pain is medial to the Tibia (inside of the shin bone/Tibia) and is the result of tension and tightness in the '3 bad guys' - Flexor Digitorum Longus, Soleus and Gastrocnemius," Expressed Dr. Gregory Roberts, a Chiropractor, Corrective Exercise Specialist, Active Release Technique & Graston Technique Provider out of Lakeville, MN. "Typically, shin splint pain is the result of these muscles being overworked and the Periosteum (a dense layer of connective tissue enveloping the bones) pulling away from the bone causing pain."
The Runner's Solution
Foam rolling is a proven way to treat and prevent shin splints. But for any runner who has experienced this dramatic showdown with shin splints will be the first to tell you that it is extremely painful and difficult to overcome with a standard roller." The unique patented Rollga design targets pain points and massages the leg effectively, for fast recovery and stress relief." Creator and Co-Founder Taggart Downare shares, "Rollga gets behind the Tibia and into areas that need to be treated as illustrated. It does not hit the Tibia bone, making for a much more comfortable experience."
International Acceptance of the Rollga Foam Roller
"Rollga launched a little over a year ago and the response has been amazing." Said Co-Founder Tim Schmidt "We went from an idea to an international company serving over 14 countries." This contoured foam roller has certainly caught the attention of hundreds of retailers and clinics around the World. The change in design is simple, but the change in effectiveness is obvious. "Triers are Buyers," Schmidt expresses with a smile.
Runners Fear Not
If you or a family member struggle with the onset of shin splints, fear not. There is a solution for you. Set your goals high, train hard this season and set aside some time for a foam rolling routine of your own with Rollga. Rolling should only take 3 to 5 minutes a day by making 2 to three passes on the shins, calves and feet. Now you know the three easy steps to prevent shin splints.