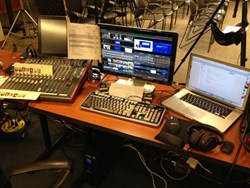 "Focal Point is the one stop shop for all your video needs when planning big events and we are satisfied with what we are seeing." Committee Chair Pastor Michael Doddoo
Ellicott City, Maryland (PRWEB) August 07, 2013
Members of Victory Bible Church International from all over North America (VBCI - North America) are coming together this week, from Thursday, 8 August through Sunday, 11 August, at the Turf Valley Resort in Ellicott Maryland for their annual special camp meeting, under the theme, "Wisdom to build the house of God."
Foal Point Productions, Inc. has been selected by VBCI North America to live stream the four day conference. Focal Point will be recording and streaming the event with four high definition cameras. DVDs of the eight sessions, totaling almost 25 hours, will be available for sale at the conference.
According to the Committee Chair, Pastor Michael Doddoo, "Focal Point is the one stop shop for all your video needs when planning big events and we are satisfied with what we are seeing."
Reverend Elijah Saforo, host of the event and also sector overseer of the VBCI-North America, says "… wisdom is profitable to direct. This means that divine wisdom is our sure way to overcome every challenge in life, whether family, ministry, career, finance or sickness."
He believes the impartation of wisdom through the preaching of the word is relevant for businesses, politics, academics, as well as in ministry. Everyone will benefit from this message as VBCI streams live under the auspices of Focal Point Productions, Inc.
Viewers can watch the webcast on any web enabled computer, tablet, or smart phone by visiting http://www.vbcius.org or http://www.livestream.com/vbcius
Service times are as follows:
Thursday, August 8th
7:00pm - 10:00pm
Friday, August 9th
9:00am - 12:00pm
2:00pm - 4:30pm
7:00pm - 10:00pm
Saturday, August 10th
8:30am - 11:30am
1:30pm - 2:30pm
7:00pm - 10:00pm
Sunday, August 11th
8:30am - 12:00pm
The list of special guests is headed by the Founder of VBCI, Presiding Bishop N.A. Tackie-Yarboi. Other keynote guests are Reverend Ebenezer Sendey, from the United Kingdom Sector of VBCI, and the highly-acclaimed Psalmist and Gospel Artiste, Alvin Slaughter, who will be the main minister during the King Musical Concert on Saturday evening 10 August.
The four day special gathering ends on Sunday morning with a special thanksgiving and concluding church service led by Bishop Tackie-Yarboi.
Church organizers selected Turf Valley, located in Ellicott City, Maryland because it's the perfect mix for convenience and affordability. Planners received several recommendations that "the rooms were clean, the amenities were great, the bed was one of the most comfortable ever and the staff was great" and that's what's needed for a camp meeting/conference.
The camp meeting is expected to bring hundreds of parishioners to Turf Valley and thousands to watch live online.
Focal Point Productions, Inc.
FPP provides video production and live streaming services in the Mid-Atlantic area.
PO Box 401, Owings Mills, MD 21117
Contact: Marty Jenoff Phone: 410-701-0377 Web: http://www.focalpp.com
Victory Bible Church International
"Raising the foundations of many generations"
VBCI is recognized by the IRS as a 501(c) 3 non-profit organization.
1785 Westchester Avenue, Bronx, NY 10472
Contact: Rev Elijah Saforo, Sector Overseer - North America
Phone: 214-620-3465 Web: http://www.vbcius.org