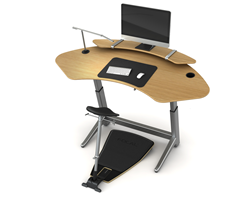 GOOD DESIGN™ is the most prestigious award for design excellence worldwide.
North Kingstown, RI (PRWEB) February 02, 2016
Focal Upright is thrilled to announce that we have won a 2015 GOOD DESIGN™ award for our Sphere Workstation. Sphere, a unique standing seat combined with a stylish standing desk, was chosen from among thousands of products representing manufacturers and design firms worldwide. The Sphere Workstation was selected in the Furniture category for its innovation, utility, and cutting-edge design.
"We are honored to be the recipient of the 2015 GOOD DESIGN™ award," said Martin Keen, Focal Upright's CEO and designer of the Sphere Workstation. "It has a long history, going back to Eero Saarinen, and Charles and Ray Eames. We are in great company!"
The Sphere Workstation is an adjustable-height standing desk combined with Focal's iconic Locus leaning seat. It keeps the user in a more healthful upright posture that combines the best of sitting and standing without the pain and fatigue of either. The workstation is built in Rhode Island of recyclable aluminum and American-made wooden desktops.
The GOOD DESIGN™ award is the oldest and most prestigious program for recognition of design excellence worldwide. Since 1950, it is awarded annually by the Chicago Athenaeum Museum of Architecture and Design in cooperation with the European Centre for Architecture, Art, Design, and Urban Studies.
About Focal Upright
Focal Upright has earned a reputation for distinctive design and edgy innovation that make the company a thought leader in ergonomic furniture design. Led by Industrial Designer Martin Keen, founder of KEEN Footwear, the company creates products that encourage people and companies to break out of their sedentary work life, embrace their humanity, and add a little play to their day.
For more information about Focal Upright or the Sphere Workstation, please visit http://www.focalupright.com or call 888-266-1011.