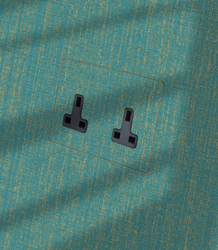 Des Harle of Kew Electrical, Guildford says: "We have used Focus SB for over 25 years. They do things that others can't do and we love the personal service. They have a really extensive range and can do custom plates when required for designer jobs."
St Leonards on Sea (PRWEB UK) 11 October 2014
All existing UK electrical accessories are flat or raised, and when fitted the edge of the plate sits above the plaster. Recently launched at 100% Design 2014, the new Focus SB Smoothie® from Focus SB Ltd offers an exciting alternative.
The precision-engineered system of the Focus SB Smoothie® allows the plate to fit flush with the plaster, making it seamless with the wall. Perfect for modern interiors where a minimal, discreet solution is required.
The plate, which is supplied primed, can be painted or wallpapered to match the surrounding wall. Only an outline of the plate and plugs pin holes are visible once the plate is installed and because of its method of construction, removing or inserting the plug does not disturb the surrounding plaster. The socket mounting plate can also be adjusted deeper into the wall and a blank plate inserted, removing from sight the inserts when the socket is no longer in use.
The Focus SB Smoothie can potentially be fitted with any inserts and it may also be possible to manufacture the faceplate out of material other than metal, so the possibilities are endless.
Focus SB manufactures in East Sussex and bespoke plates are its speciality, so bespoke solutions are also available in the Smoothie range.
Contact the technical sales office on 01424 858060 for further details on this innovative new product and to discuss your specific requirements.