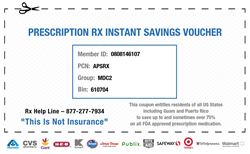 Atlantic City, NJ (PRWEB) January 04, 2015
With so many illnesses possible, and so many medications to treat them, it is often easy to forget that maintaining good nutritional health is the first line of defense against disease. Doctors often prescribe vitamin and mineral supplements with this fact in mind. Medicationdiscountcard.com can help, with access to coupons for vitamin prescriptions.
Folic Acid
Folic Acid is an important B vitamin necessary for body cells to grow and thrive. Lack of folic acid can lead to birth defects in the brain and spine of a developing fetus. Folic acid is often prescribed to pregnant women, or women who will become pregnant, for this reason. A Folic Acid coupon is available for print-out at Medicationdiscountcard.com.
Vitamin B-6 (Pyridoxine)
Vitamin B-6 is often found in certain foods, like cereals, beans, vegetables, meat and eggs. It is important for many body functions, and is often prescribed for Pyridoxine Deficiency (lack of B-6), certain types of anemia (low red blood cells), and seizures in infants. A Vitamin B-6 coupon is freely available at Medicantiondiscountcard.com to use with your prescription.
Vitamin B-12 (Cobalamin)
Vitamin B-12 helps the body to maintain healthy nerve and blood cells, as well as preventing certain types of anemia. B-12 shots are usually prescribed to patients who suffer from Pernicious Anemia (lack of B-12 absorbing protein). A Vitamin B-12 discount card can save consumers up to 75% on their prescription at the pharmacy.
Vitamin B Complex
Vitamin B Complex is a combination of several B vitamins, all essential to a variety of healthy body functions. Although B vitamins are naturally found in plant and animal food sources, some patients may find that they do not receive enough of these important nutrients in their diet. A Vitamin B Complex coupon can save consumers money on their prescription at the pharmacy.
Vitamin D
Vitamin D is a necessary nutrient that enables the body to absorb calcium and phosphorus in the intestine. Vitamin D deficiency can lead to several different bone diseases, including osteoporosis (weak and brittle bones). A Vitamin D discount card is available for print-out at Medicationdiscountcard.com.
Vitamin K
Vitamin K performs many beneficial functions for the body, including creating proteins that help blood clots to form when necessary. Doctors may prescribe Vitamin K to fight unusual or excessive bleeding brought about by blood thinners, or a lack of this essential vitamin. Using a Vitamin K coupon at the pharmacy can save consumers money.
The CDC reported that, by 2006, vitamin deficiency in healthy people was much less of a problem in the United States than it had been in the past. Vitamin deficiency still poses a problem for those with unhealthy diets, those who are already ill, or those who must use medications that have the unfortunate side-effect of depleting essential vitamins.
Note: The information above is intended to supplement, not substitute for, the expertise and judgment of your physician, pharmacist or other healthcare professional. It should not be construed to indicate that use of the drug is safe, appropriate, or effective for you. Consult your healthcare professional before using this drug.
About Medicationdiscountcard.com
Medicationdiscountcard.com was started to provide discounts on prescription drugs to those who need it most. Our goal is to provide you with the largest savings possible when compared to other cards. We invite you to compare the savings our card will provide to that of other leading providers.