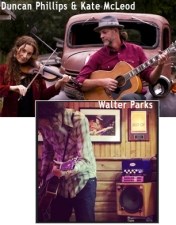 Famed singer-songwriter Duncan Phillips, son of Bruce "Utah" Phillips, and Walter Parks (guitarist for Richie Havens) perform two shows in Boston area with Kate MacLeod.
Boston, MA (PRWEB) December 20, 2013
Thursday, January 9th, famed singer-songwriter Duncan Phillips, son of Bruce "Utah" Phillips, and Walter Parks (guitarist for Richie Havens) perform at the Hezekiah Stone Coffeehouse in Leicester, MA with special guest Kate MacLeod! The trio of troubadours will also be appearing on Saturday, January 11th, at Johnny D's in Davis Square in Somerville, MA.
Duncan Phillips – son of Bruce "Utah" Phillips – first hit the road with his father in 2000. Duncan was referred to as his father's "Road manager" on the tour, but he affectionately jokes that everyone knows his father could never be managed. After his father's death in 2008, Duncan inherited his father's road-worn Guild guitar as well as the songs and stories he had collected over decades wandering the country. Now every time Duncan takes the stage his father is with him in spirit, singing his stories as clearly as he ever did.
Veteran blues and jazz guitarist Walter Parks from Florida has built an international career as the lead guitarist for Woodstock legend Richie Havens, as half of the folk-duo The Nudes, and as leader of the neo-southern rock group Swamp Cabbage. Just as Georgia's Okefenokee Swamp has served as the headwaters of Florida's Suwanee River, so has it served as the inspirational headwaters for Walter's unique guitar concept – a banjo-esque fingerpicking style that toggles between expressing the swamp's beautiful side - its foggy, ambient underbelly and it's eminent danger via the use of a modicum of pleasant distortion. Inspired by the sultry black gospel that wails from storefront churches and roadhouses in the American southeast, Parks's raspy vocal lows and soaring operatic falsetto explore the frontier of the modern human spirit in search of a place where it can flourish. Walter has played in Madison Square Garden in New York and the Blue Note in Milan, Italy.
Kate MacLeod straddles the divide between timeless traditional folk music and cutting edge contemporary songwriting. MacLeod hails from Utah, where western legends like Butch Cassidy and Joe Hill roamed the wide open country. The same wildness runs in her blood and can be heard in her performances as a fiddle player. MacLeod's songs have been covered by artists around the world and featured on countless nationally syndicated radio programs including Tom May's "River City Folk," "Peace on Earth" with Judy Collins, and Garrison Keillor's "A Prairie Home Companion."
Thursday, January 9th 2014
The Hezekiah Stone Coffeehouse is hosted by the Christ Episcopal Church
1089 Stafford St. Leicester MA 01542
Tickets: $20 Show time: 7:30 p.m.
http://www.brownpapertickets.com/event/439440
Saturday, January 11th 2014
Johnny D's is Located Directly Across from the Davis Square MBTA stop
17 Holland St. Somerville, MA 02144
Tickets: $10 Show time: 7:00 p.m.
http://www.ticketweb.com/t3/sale/SaleEventDetail?dispatch=loadSelectionData&eventId=3908444&pl=jds
The Mission of Hezekiah Stone's Coffeehouse is to provide an affordable evening of live entertainment that builds community while supporting the arts and creating an intimate space where artists and audiences can interact. Like Hezekiah Stone's tavern, from which the name is taken, community members are invited in to relax and intermingle in an informal, friendly atmosphere. Concerts are held on the first Thursday evening of the month, (September through June) doors at 7:00 p.m. show at 7:30 p.m.
A post-show artist reception and conversation is hosted at 9:15 p.m. Please join in and get know the artist and the local folk community. The Hezekiah Stone Coffeehouse is produced by Timothy Mason and Peter Swanson with the support of the congregation of the Christ Episcopal Church.
Johnny D's is a Boston institution locally owned and operated by the DeLellis Family since 1969. Their intimate 300-capacity venue has hosted countless legendary artists - including Guy Clark, Rufus Wainwright, Bela Fleck, Jeff Buckley, Andrew Bird, and The Dixie Chicks - and has won the coveted "Keeping the Blues Alive" award from the Memphis Blues Foundation.
If you have any questions, comments or would like to set up an interview, please contact Melissa Zeigler at Powderfinger Promotions.
melissa(at)powderfingerpromo(dot)com