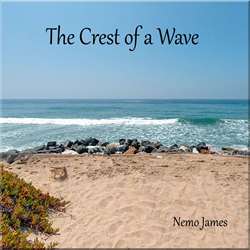 I had the pleasure of recording many of Nemo's albums in the early 90's but for me "The Crest of a Wave" was something very special. It is a truly unique fusion of folk, classical and rock music. Chris Kirby, Bournemouth England.
LOS ANGELES (PRWEB) December 11, 2018
Prolific singer songwriter Nemo James has traveled and moved houses many times during his life and it was on one of those occasions nearly 30 years that tragically the master for his epic folk-rock opera "The Crest of a Wave" was lost. It hadn't yet been released and as far as he was aware there were no copies.
What Nemo didn't know was that the engineer that had recorded the album had made a copy. Chris Kirby an old school friend and big fan of Nemo James had played the opera many times and was unware that it had been lost.
"I lost contact with Nemo for many years and was unaware that he was still writing and releasing albums. When I found his website, I contacted him and asked why my favourite album was not on his website. I was staggered to hear that the music had been lost and that I owned the only copy in the entire world."
Nemo said, "It was such a strange experience hearing The Crest of a Wave after so many years and I couldn't be more delighted with it. Before my record company went bust they had a strict policy of who should have copies until the release, so they would have been very angry if they knew what Chris had done but thank God he ignored them."
The Crest of a Wave tells the story of a young woman looking for love and security in Los Angeles but not recognising it when she found it.
Such a substantial work would be almost impossible to market these days, so Nemo's new record company have remastered the album and released it for free download on his website at http://www.nemojames.com/the-crest-of-a-wave