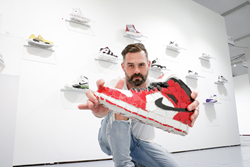 I am humbled by the amazing support from my collectors, and I look forward to presenting my collection on the West Coast
LOS ANGELES (PRWEB) January 18, 2019
The success and buzz created by Jason Dussault's sold out "KickBack" exhibit at Miami's Art Basel has inspired a second installation, this time, showcased in Los Angeles at the L.A. Art Show, from Thursday January 23rd to the 27th,2019 . With world class musicians like Young Thug and Fabulous showing their support and deep interest in the KickBack reveal at Art Basel, the L.A. Art Show is sure to attract like minded cultural ambassadors and deliver impact and conversation to one of the worlds most diverse cities. In it's debut, KickBack featured one of the mosaic shoes from the pair, for the Los Angeles release, the opposite sneaker will be made available, encouraging collectors to complete the set.
Sneakers have long been considered functional pieces of art and rightfully so. A blend of colorways, material and design has made them not only utilitarian, but also visually striking. Albeit world wide, the sneaker culture is still closely knit, if even primarily in their appreciations.
This rarified movement is the inspiration behind Jason Dussault's latest show: KickBack. An homage to a selection of his favorite sneakers growing up, Jason has taken his unique application of mosaic tile-work and applied his medium to a range of classic kicks.
The installation will be proudly displayed at the L.A. Art Show in the guise of a pop up shoe store, the pieces themselves highlighted inside of foil stamped plexiglass boxes.
Although the word KickBack evokes feelings of relaxation and calmness, by reimagining an item of comfort and function, Jason Dussault has yet again taken familiar terminology and turned it on its head. KickBack is not only a show for sneakerheads but is indeed a commentary on one of the most influential and inspiring movements in pop culture.
About the L.A. Art Show JANUARY 23-27 2019 (Los Angeles Convention Center)
Los Angeles has emerged as a global epicenter of art & culture, with a distinct, interwoven multi-cultural influence unique to the city. Diversity is our strength and art is most impactful when it includes or transcends all borders. As LA rises as the world-class destination for art, LA Art Show continues to lead the way with innovative programming and one-of-a-kind experiences for an expanding collecting audience.
More than 200,000 square feet of exhibition space is committed to today's prominent galleries. These domestic and international galleries, beyond their booths, curate special exhibits that are at the forefront of the burgeoning contemporary art movement. The fair offers an extraordinary array of works and experiences in specialized sections.
About Castle Fitzjohns
A 3,000 square foot two story locale situated in Manhattan's Lower East Side (LES), Castle Fitzjohns Gallery represents a wide range of emerging and mid-career artists, as well as select secondary market pieces from our collection. Castle Fitzjohns has a three tier structure:

Castle Fitzjohns "Platform", which focuses on nurturing and guiding emerging artists.
Castle Fitzjohns "Gallery" which supports and promotes mid career artists.
Castle Fitzjohns, an advisory and brokerage service for the bluechip/secondary market.
In 2016 Castle Fitzjohns Creative was launched, an agency pairing artists with brands for experiential marketing activation's, product collaborations and corporate team building. We also curate community outreach projects to promote/create community engagement through art.
https://www.castlefitzjohns.com/
About Jason Dussault
The world's most impactful art is born from the expression of internal struggle. Jason Dussault has wielded the power of that understanding and has channeled that energy through nostalgic iconography. Jason creates an homage to one of the most primitive yet connected mediums in art history, the mosaic. By combining tile, paint, grout, resin and vintage porcelain, Jason has re-envisioned a 4,000 year old craft that has spawned masterpieces and, has made it his own. A true labor of love, Jason's pieces are created over a two to four week process which he navigates on his own accord, free from assistants or interns. His dedication, curiosity and, sacrifice have culminated in humbleness, the true mark of an artist.
The artist has an impressive list of accomplishments and collaborations including; a commission by FC Barcelona to create a mosaic artwork of their coat of arms, where it was presented at the Rainbow Room in NYC and hand signed by all the soccer players, which was then put up for a charity auction; SOLD-OUT solo show in NYC, hosted by the late Glenn O'Brian editor of Interview Magazine and Warhol factory member; one-month Artist-in-Residency at Ruschmeyer's Hotel in Montauk, Long Island, NY, where Jason created a series of vintage mosaic surfboards in an interactive outdoor setting; Invitation to host an artist workshop and talk at the Soho House members club NYC; Rogers production of reality TV show Dussault Inc.; Creator of the iconic Dussault Hoodies; partnership with KISS' Gene Simmons; and a Indy Car collaboration.
Jason Dussault is represented by Hoerle-Guggenheim Contemporary Art Gallery in NYC and at Maddox Gallery in Mayfair, London.
To learn more, please visit:jasondussault.com