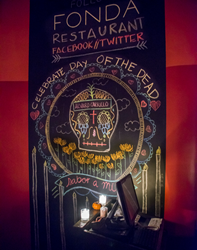 New York, NY (PRWEB) October 24, 2014
Fonda Restaurants, led by esteemed Mexican chef and restaurateur Roberto Santibañez, will honor the traditional Mexican holiday of "Day of the Dead" by partnering with several local Mexican food companies - La Newyorkina (Fany Gerson), Masienda and Tortilleria Nixtamal - to showcase Mexican heirloom corn.
"Day of the Dead" is one of the most revered Mexican holidays, the focus of which is to commemorate and pay tribute to the lives of the deceased. One such practice is to prepare and enjoy their favorite foods and beverages. In this tradition, Fonda has joined with guest chef and author Fany Gerson of La Newyorkina to design a distinctive menu rooted in one of the most prominent of Mexican food staples, corn.
Further, to highlight the new wonderful availability of Mexican heirloom corn here in NY, Fonda has also partnered with Masienda, an importer of several varieties of landrace corn from independent Mexican farmers; Masienda will provide blue cónico corn, which is grown in the highlands of central Mexico. The corn will then be sent to Tortilleria Nixtamal, a local company renowned for their healthy, artisanal way of treating corn and making masa. They will then make all of the masa needed to make the tortillas that will be served at all three Fonda locations for the week of October 30th to November 7th.
In addition to the blue corn tortillas and menu specials, the restaurants will offer two other hugely popular and traditional "Day of the Dead" items: "pan de muerto", the essence of the holiday's culinary tradition, this version is sugar-dusted and orange blossom-scented day of the dead bread served with stone ground hot chocolate; and champurrado, a heart-warming masa-based chocolate beverage which will also be made with Masienda's corn.
The special five-course gala dinner with wine and mescal pairings will take place on Wednesday, November 5th at 7pm at their East Village location. Reservations are available by calling 212-677-4096.
Celebración de Maíz para el Día de los Muertos con Guest Chef Fany Gerson:
Tamal de Maíz Azul con Hongos y Salsa de Guajillo
Blue cónico corn tamal with mushrooms and guajillo sauce
Sopa de Frijol con Chochoyones
Black bean velvet soup with epazote masa dumplings
Camarones Enchipotlados
Chipotle-rubbed seared jumbo shrimp served with blue cónico corn tortillas
Manchamanteles de Res
Slow braised short ribs in a sweet and sour ancho chile sauce with pears, apples and pineapples. Served with white rice and blue cónico corn tortillas
Calabaza en Tacha con Helado de Crema
Piloncillo-baked autumn squash with crema ice cream and spicy candied pumpkin seeds,
served with champurrado
All courses will be paired with wine or mezcal
$70 per person, plus tax and gratuity
Fonda restaurants are located at 189 9th Avenue, Chelsea (917.525.5252); 40 Avenue B, East Village (212.677.4096); and 434 7th Avenue, Park Slope (718.369.3144). Reservations are recommended and can be made by visiting http://www.fondarestaurant.com or calling directly. To get social with Fonda, visit http://www.facebook.com/fondarestaurant or on Instagram and Twitter @fondarestaurant.
Chef Santibañez is an award-winning chef who was raised in Mexico City, trained at Paris's renowned Le Cordon Bleu culinary school, and then opened and ran several highly acclaimed restaurants in Mexico City before moving to the United States. Santibañez is the author of three published cookbooks: Rosa's New Mexican Table (Artisan; 2007), Truly Mexican (Houghton Mifflin Harcourt; 2011), and Tacos, Tortas & Tamales (Houghton Mifflin Harcourt; 2012).
Masienda imports landrace maize directly from independent, smallholder farms in Mexico to the New York culinary market and beyond. Founded in 2014 by Jorge Gaviria and Kate Barney, Masienda pursues exceptional flavor while executing its core mission: to import the highest quality maize to the United States while creating a fair market that promotes agricultural biodiversity and supports smallholder farmers in Mexico. For more information, please visit http://www.masienda.com.
Tortilleria Nixtamal ascribes to the philosophy that the purpose of the tortilla, as well as the masa used for tamales and other products, is to enhance the flavor of the food, not to merely hold the food together. For more information, please visit http://www.tortillerianixtamal.com
Fany Gerson is a graduate of the Culinary Institute of America (CIA) and is considered one of the country's most authoritative voices on Mexican confections. She founded La Newyorkina in 2010 wanting to share and celebrate the amazing frozen treats and sweets of Mexico. She has been featured in multiple publications and has written two books, My Sweet Mexico (nominated for a James Beard award 2010 for best baking and pastry cookbook), Paletas, and is in the process of writing her third. For more information, please visit http://www.lanewyorkina.com.