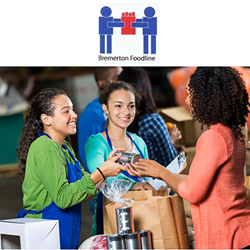 No one in our community should go a single day without a decent meal, especially our children. That's why we're working to support the Bremerton Foodline and their ongoing efforts to feed hungry families
Bremerton, WA (PRWEB) December 13, 2016
The Betty Skinner Insurance Agency, a Seattle-area firm providing insurance services and financial planning assistance to families and business owners in and around Kitsap County, is initiating a grassroots charity event aimed at raising funds and support for the Bremerton Foodline.
The Bremerton Foodline is locally managed food bank that has served more than 17,000 regional households to date, providing children and underprivileged families with supplemental food and school supplies. The continuing mission of the Bremerton Foodline is to nourish and enrich the lives of community members who are dealing with day to day food insecurity.
"No one in our community should go a single day without a decent meal, especially our children. That's why we're working to support the Bremerton Foodline and their ongoing efforts to feed hungry families," says Betty Skinner, founder and acting director of the Betty Skinner Insurance Agency.
Efforts are already underway to publicize the local charity initiative, and the Skinner team is working diligently to gather support for the event via online social media channels and a community email bulletin. Upcoming publicity efforts will include a full length story outlining the goals of the charity program soon to be published in "Our Hometown," a monthly online digest hosted by the Betty Skinner Insurance team: http://www.bettyskinnerinsurance.com/Our-Hometown-Magazine_39.
Several notable charitable causes operating in the Seattle area have enjoyed the support of Skinner and her team since the start of the year. As active participants in a nationwide charity support campaign called "Agents of Change," the Skinner Insurance team plans to continue supporting local nonprofits on a bimonthly basis.
All readers who want to be part of the charity drive to support the Bremerton Foodline are personally invited by Betty Skinner Insurance Agency to make a personal commitment to furthering the cause by visiting this page: http://www.bettyskinnerinsurance.com/Fighting-Hunger-and-Feeding-Hope_15_community_cause. Nonprofit organizations and charitable causes previously assisted by the Betty Skinner Insurance team can be reviewed from the agency's Community Causes listing: http://www.bettyskinnerinsurance.com/community-cause.
About Betty Skinner Insurance Agency
As a Personal Finance Representative in Bremerton, agency owner Betty Skinner knows many local families. Her knowledge and understanding of the people in her community ensures that clients of Betty Skinner Insurance Agency are provided with an outstanding level of service. Betty and her team look forward to helping families protect the things that are most important - family, home, car and more. Betty Skinner Insurance also offers clients a preparation strategy for achieving their financial goals. To contact an expert at Betty Skinner Insurance Agency, visit http://www.bettyskinnerinsurance.com/ or call (360) 479-9850.