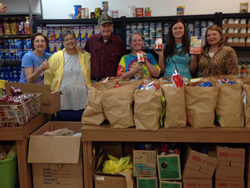 Forney Food Pantry is an integral part of our community and provides nutritious food to families and children who are in desperate need.
Forney, TX (PRWEB) September 24, 2015
The Slocum Agency, a locally owned insurance firm with offices that serve Rockwall, Forney, and communities east of Dallas, is launching a joint charity effort with Forney Food Pantry, a non-profit organization that provides food to hungry adults and children in Forney and Crandall.
Forney Food Pantry serves 200 families per month throughout nearby communities. This is a 50% increase over previous years, highlighting the growing problem of hunger in eastern Texas. As a volunteer-staffed non-profit organization, Forney Food Pantry relies heavily on assistance and contributions from local families. By carefully managing funds, Forney Food Pantry is able to turn a single dollar into eight full meals.
"Forney Food Pantry is an integral part of our community and provides nutritious food to families and children who are in desperate need," says Justin Slocum, owner and manager of the Slocum Agency. "We're proud to do our part in helping the Food Pantry continue providing meals to hungry residents, and we're calling on all our fellow community members to pitch in and help us out."
Slocum and his team are hard at work actively contacting clients and friends throughout the area in an effort to raise awareness of the growing hunger problem and to raise funds that will be used to ensure Forney Food Pantry is fully funded going forward. The team is also creating a social media presence in the hopes of finding supporters throughout the Dallas area and beyond.
In addition to assisting the Forney Food Pantry, the Slocum Agency is planning to work with an additional local charity every two months for the foreseeable future as part of an ongoing community involvement campaign.
Those who wish to assist the Slocum Agency as they advocate and raise funds to support the Forney Food Pantry are invited to visit the charity page on the Slocum website and make a direct donation to the cause here: http://theslocumagency.com/Fighting-Hunger-in-the-Community_21_community_cause. Those interested in learning more about the new charities that will be supported by the Slocum Agency in the months to come are invited to bookmark the Community Causes section of their website, located here: http://theslocumagency.com/community-cause.
About The Slocum Agency
A deep knowledge and understanding of the people in their community is how Justin Slocum and his team provide insurance to over 1,100 families. The Slocum team enjoys helping clients like you to protect the things that are most important to you – your family, home, and car – and they know it all begins with excellent customer service. When it comes to insurance most people have more questions than answers, and the Slocum team prides themselves on educating, protecting, and guiding their clients down the safest and most prosperous path. To speak with a helpful and knowledgeable member of the Slocum team browse to http://www.theslocumagency.com/ or call (972) 564-4001.