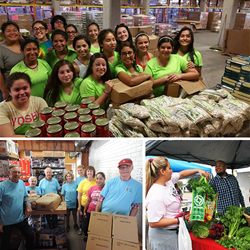 It's difficult to express how important the Rio Grande Food Bank is, and it's critical that our community is able to come out and keep showing their support so that we can keep the food bank going strong
McAllen, TX (PRWEB) July 13, 2016
Brenda Gomez Resources, a Texas-based insurance company serving Hidalgo County and the surrounding communities, is continuing their charity effort to provide support and gather donations for the Food Bank of the Rio Grande Valley.
Since 1986, the Food Bank of the Rio Grande Valley has acted as a resource center to smaller food pantry and charitable food provision programs and organizations across southern Texas. From the Ronald McDonald House to the Boys and Girls Clubs, the Food Bank of the Rio Grande Valley is an integral service center that provides stability to dozens of charitable causes in the area.
"It's difficult to express how important the Rio Grande Food Bank is, and it's critical that our community is able to come out and keep showing their support so that we can keep the food bank going strong," says Brenda Gomez, owner and manager of Brenda Gomez Resources.
With the help of her team, Gomez has already established an online social media portal and launched an email update bulletin to keep local community leaders and business owners up to date with the progress of the charity drive. An article featuring the Food Bank of the Rio Grande Valley was produced for last month's issue of "Our Hometown," and the Gomez team will be producing another this month: http://www.gomezresources.com/Our-Hometown-Magazine_39.
Brenda Gomez Resources has recently joined the ranks of the national "Agents of Change" movement. As part of this movement, the firm will be selecting and working with a new Texas-based charity every other month.
Readers who wish to take part in the Food Bank of the Rio Grande Valley charity event alongside the Brenda Gomez Resources team are invited to make a contribution to the cause from this page: http://www.gomezresources.com/Fighting-Hunger-Feeding-Hope!-_12_community_cause. Readers that want to follow the new charities and causes support by the Brenda Gomez team can bookmark the firm's Community Causes list here: http://www.gomezresources.com/community-cause.
About Brenda Gomez Resources
As a Personal Finance Representative in McAllen, agency owner Brenda Gomez knows many local families. Her knowledge and understanding of the people in her community ensures that clients of Brenda Gomez Resources are provided with an outstanding level of service. Brenda and her team look forward to helping families protect the things that are most important - family, home, car and more. Brenda Gomez Resources also offers clients a preparation strategy for achieving their financial goals. To contact an expert at Brenda Gomez Resources, visit http://www.gomezresources.com/ or call (956) 322-4717.