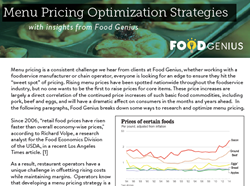 Food Genius is committed to supporting our foodservice operator clients and partners with big data insights related to areas of pricing optimization.
Chicago, IL (PRWEB) June 16, 2014
Food Genius, the leader in big data restaurant menu research and insights for the foodservice industry, has released a new briefing, "Menu Pricing Optimization Strategies." The significant rise in food costs over the last few years means that operators need to be aware of the different strategies they can implement to optimize their pricing; this briefing provides a number of different options.
"Food Genius is committed to supporting our foodservice operator clients and partners with 'big data' insights related to areas of menu pricing optimization," states Food Genius CEO, Justin Massa. "This briefing is just the tip of the iceberg in terms of insights Food Genius can derive from our database of menu items, regional pricing trends, and market dynamic pricing." This briefing, available for download on the Food Genius website, is a quick look at opportunities that operators can explore around pricing optimization. "Operators need to move beyond cost plus pricing models and factor in attributes and market prices. Our research has found that nearly all operators are leaving money on the table when it comes to pricing optimization," notes Massa.
The "Menu Pricing Optimization" Brief provides insight into:

Using enhanced culinary descriptors
Observing immediate competitive landscape
Determining what ingredients can be added or removed from menus to adjust pricing
Food Genius also recently unveiled their new website which now offers a complete resources section filled with downloadable presentations, infographics and insight reports. See the new look at http://getfoodgenius.com.
About Food Genius
Food Genius™ is an award-winning technology and services company that delivers big data and insight solutions to the food industry. Food Genius provides actionable insights and foodservice industry analysis derived through proprietary technology-based approach to foodservice data. As a leading menu data provider, Food Genius serves nationally recognized restaurant chains, foodservice manufacturers, grocery retailers, CPG manufacturers and broad-line distributors.
Food Genius is a proud recipient of the "Up-and-Comer" Chicago Innovations Award and was named to Entrepreneur Magazine's list of 100 Brilliant Companies in 2013. Food Genius' innovative design and intuitive interface allows for a user-friendly data insights solution that generates granular data and insights, tracks trends, develops concepts and drives growth. To learn more, visit http://getfoodgenius.com.