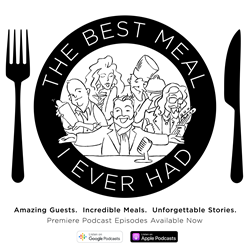 NEW YORK (PRWEB) June 24, 2019
Today, after a 23-year career working for some of the biggest brands in media (AMC Networks, NBC News, USA Network, VH1), Andrew Schulman brings The Best Meal I Ever Had podcast to life for foodie and podcast fans alike. Each week, Andrew sits down with guests and asks one simple question to discover their most unforgettable meals and the stories behind it.
"What's amazing about these stories is though they start with the meal, they always goes somewhere deeper and more personal," said Andrew Schulman, creator and host of The Best Meal I Ever Had podcast. "There is nothing more human than the love of great food and a great story, and I am thrilled to be bringing these authentic and untold stories about food to life every week in the podcast."
Andrew also asks guests to create a "Divine Dinner" for listeners - a custom "best meal scenario" featuring an appetizer, main, dessert and drink of their choice made by anyone, anywhere, from anytime in their life. "It's this fun question that really brings our guest's food passions to the table, and always ends up paying homage to the people and the places that have inspired them throughout their lives, which is so interesting," said Andrew.
What started out as great dinner conversation with friends evolved into something Andrew felt, as an award-winning content marketer, was right for a podcast. "Anyone who loves food asks themselves, and their friends, some version of both questions. " Andrew's love of dining with great storytelling, punctuated by his wit and sense of humor, help bring these stories to life.
"He is such a fun dining companion. The podcast is like sharing an unforgettable meal with him, too," said Heather Carlucci, award-winning chef, medium, and executive producer of the podcast. "It also doesn't hurt that Andrew grew up in Manhattan and has always been on the pulse of dining culture in New York City."
Season One will feature 7-9 episodes across all major podcast platforms, and can also be found online at bestmealpodcast.com and on Facebook, Instagram and Twitter @bestmealpodcast.
About The Best Meal I Ever Had:
The Best Meal I Ever Had podcast is hosted by creator Andrew Schulman, and produced at Sim Post Studios in TriBeCa by Emmy-Award sound producer Sue Pelino, Stephanie Pacchiano, Andrew Schulman, and executive producer Heather Carlucci. Original theme music for the podcast is provided by Four Sticks Music. The podcast itself is a production of Little Engine Productions, Inc. Copyright 2019.
Andrew Schulman's media marketing career has spanned decades, working for brands such as VH-1, USA Network, AMC, The Today Show, The Weather Channel, MSNBC, and most recently at WE tv, where he was the Senior Vice President of Integrated Marketing.
Press Contact:
Andrew Schulman
President, Little Engine Productions, Inc. (917) 532-8446 Littleenginepro(at)gmail(dot)com