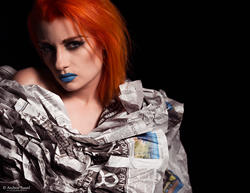 The purpose of this shoot was to scout locations and studios in Los Angeles, as well as working with one of the most talented models I have ever known
Los Angeles, CA (PRWEB) December 03, 2014
New Jersey-based photographer Andrew Foord included a high-profile photo compilation with celebrity model Ulorin Vex as apart of his personal photography project.
The projects are designed to showcase Foord's distinctive shooting style and light preferences while connecting with many potential clients around the country. "The purpose of this shoot was to scout locations and studios in Los Angeles, as well as working with one of the most talented models I have ever known," said Foord.
As an east coast photographer with a consistently rising presence, a negative perception is that Foord is limited to only shooting within the Mid-Atlantic region.
As an example of his reach, Foord traveled to California and teamed up with Vex to capture the red-haired fiery model's sense of style and passion. "I generally like to shoot something that my subject does not have in their portfolio, but when working with someone like Ulorin Vex, I let her and her make up artist take the reins, then I shot accordingly," said Foord, describing the make-up used and poses displayed in the shots with Vex.
With this session completed, Andrew is planning to add similar projects to his portfolio with a wide-range of clients that will take him across the country. The projects will periodically be displayed on Foord's website and social networking sites throughout the next year.
Andrew Foord is a New Jersey photographer and a guest blogger on Alienskin.com and currently operates a personal blog with details on his photography sessions.