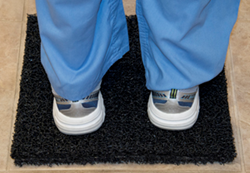 After sitting for hours, I enjoy resting my feet on the 3D foot rest-it's very relaxing on the feet and legs
Cleveland, Ohio (PRWEB) June 17, 2015
New ViSpa 3D Foot Rests dramatically reduce back, foot and leg fatigue with their double layer construction. The built-in memory allows the matting to spring back to its original shape at day's end. They are ideal for laboratory workstations on tile or concrete floors.
Made of vinyl, the non-woven, continuous filament-bonded ViSpa material is durable, withstands paraffin spillage, and is resistant to mold, mildew, most acids, solvents and bleach.
The continuous filament-bonded matting traps paraffin-embedded cuttings, while a special surfactant prevents the wax from sticking to the surface. Two-layer construction provides maximum anti-fatigue comfort.
"After sitting for hours, I enjoy resting my feet on the 3D foot rest-it's very relaxing on the feet and legs," states Mary Davis, HT (ASCP).
ViSpa 3D Foot Rest Features:
o Resistant to most chemicals found in labs, plus fungus, mildew, acids, and organic solvents
o Withstands bleach and other chemical bases such as sodium hydroxide and ammonia
o Since it is water resistant, it dries quickly.
o Easily disinfected if contact is made with blood or other hazardous material.
ViSpa Foot Rests are easy to clean by shaking, vacuuming, washing or spraying with a hose. They come in two standard sizes, 15" x 15" and 15" by 24", but custom sizes and shapes can be provided.
About Martinson-Nicholls
Martinson-Nicholls, has established itself as a leader in custom anti-slip tape, floor mats, and eco-friendly products for more than 60 years.
Martinson-Nicholls provides the customer with the exact size matting needed--small, large, standard, nonstandard, special shapes and logos. Custom installations are also a specialty of the company.
Anti-slip safety tapes and treads are available in various sizes and textures from hand cut or die cut pieces to full rolls and special shapes. For more information, please visit http://www.floormat.com.