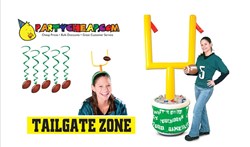 PartyCheap is now one of the largest online party supply stores for football party themes.
Shippensburg, PA (PRWEB) January 25, 2014
PartyCheap.com announces football party ideas and supplies for the big game coming up on February 2nd 2014. Receive 10% off orders of $60.00 or more when you use promo code: BIGGAME. Also, receive free shipping on orders of $99.00 or more. This offer is valid until January 31st.
Football decorations and novelties are a great way to impress friends and family when hosting a football party. PartyCheap offers a wide variety of quality products for the Big Game including inflatable goal post coolers, table covers, penalty flags, football beads, fun hats, stadium horns, and more. In addition to their fun novelty products, also check out their awesome decorations including football whirls, cutouts, banners, and anything needed for Game Day and Tailgate parties.
Partycheap.com began in 2001 and is now one of the largest online party supply stores on the internet today. They know quality, selection and price are important and strive to offer the best overall value to their customers.
Learn more about PartyCheap.com and browse its wide range of football decorations and supplies for nearly any party or event. They can be reached on-line at PartyCheap.com or over the phone at 800-224-3134.