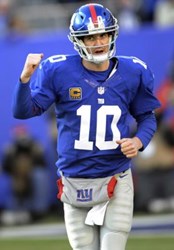 "America is football crazy," says owner, DJ Segal
New York, NY (PRWEB) August 20, 2013
The 2013 NFL season is just around the corner and as teams across the league gear up for another glorious season, fans from around the country are flocking to LuxuryVIPSuites.com to make arrangements to see their favorite teams live from the best vantage points in the stadiums. LuxuryVIPSuites.com has unprecedented access of exclusive luxury suite and premium seat packages which enables them to put their clients' right in the middle of all the action.
LuxuryVIPSuites can create custom packages to specifically meet the needs of their clients. From entertaining a corporate group at a New York Giants game to having a family reunion at an Atlanta Falcons game, LuxuryVIPSuites.com's friendly and knowledgeable customer service specialists will take care of all the details.
Last season's Super Bowl, featuring the Baltimore Ravens and San Francisco 49ers at the Mercedes-Benz Superdome, home of the New Orleans Saints, was one for the record books. Through their long-standing relationships with NFL suite owners, LuxuryVIPSuites.com was able to provide their clients with the best suites and seats in the stadium for the biggest game of the year.
LuxuryVIPSuites.com is an elite hospitality concierge service with over 30 years of experience. Their exclusive access to luxury boxes and great upper and lower level tickets has allowed them to grow into one of the most respected and reliable sources in this billion dollar industry.
NFL fans across the country are excited for the upcoming season. RGIII and the resurgent Washington Redskins look to improve upon last year's record as fellow sophomore season quarterbacks Andrew Luck of the Indianapolis Colts and Russell Wilson of the Seattle Seahawks look to make another playoff push. Meanwhile, perennial powerhouse teams like the Green Bay Packers led by Aaron Rodgers and Tom Brady's New England Patriots look to reclaim Super Bowl glory.
"America is football crazy," says owner, DJ Segal. "Our phones are ringing off the hook with requests for the Houston Texans, Dallas Cowboys, Chicago Bears… it is a great time to be a football fan!" LuxuryVIPSuites.com has already secured suites for their clients with the Philadelphia Eagles, Miami Dolphins, Tampa Bay Buccaneers, and many more.
Purchasing direct from LuxuryVIPSuites.com eliminates the stress and hassle of dealing with middlemen. When entertaining clients, friends, or family, one cannot afford to have any problems, so play it safe and buy direct from the source. Contact LuxurryVIPSuites.com today for updated inventory and luxury suite configurations