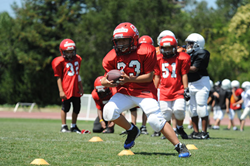 We strive to have each camper develop and/or enhance a love for the game and a strong work ethic.
San Rafael, CA (PRWEB) April 08, 2015
Geneva College in Beaver Falls offers two programs - Contact and Non-Contact Football, which provides the perfect setting for both high school football and youth football players of all levels to practice and train. Campers will train under Geneva College's Defensive Coordinator, Mike Pinchotti.
"We want each camper to learn at least one new skill," states Pinchotti. "We strive to have each camper develop and/or enhance a love for the game and a strong work ethic."
Coach Pinchotti has become a welcome fixture patrolling the Geneva sidelines, and since 2007 has been the catalyst behind the Golden Tornado Defense as the Defensive Coordinator. Recently, Pinchotti has taken the odd stack defense to a new level as a multiple look system, coordinating the input of position coaches. He is also the Strength and Conditioning Coordinator and has been instrumental in the overall development of the football program on and off the field.
"We are excited to have Coach Pinchotti at the helm of our football camp," says Michael de Surville, Senior Vice President of US Sports Camps. "His experience and knowledge of the game will provide campers an advantage come their fall season."
At camp, athletes participate in three practices per day with a focus on individual position work and team play. All participants are divided according to age, weight and ability. Camper's housing and meals take place on campus.
About US Sports Camps
US Sports Camps (USSC), headquartered in San Rafael, California, is America's largest sports camp network and the licensed operator of Nike Sports Camps. The company was started in 1975 with the same mission that defines it today: to shape a lifelong enjoyment of athletics through high quality sports education and skill enhancement.
Players, Coaches, Parents and others interested in US Sports Football Camps can visit http://www.ussportscamps.com/football or call 1-800-433-6060.