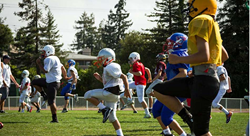 Campers who attend our Contact Football Camps learn the proper techniques in a safe and controlled environment
San Rafael, CA (PRWEB) February 27, 2016
With 42 years in the camp business, the Contact Football Camps continue to offer one of the safest environments to learn the proper fundamentals of a "contact" program.
"These camps represent some of the safest youth football camps in the country. We feel it is important to educate and teach safety to all young football players interested in playing contact football. Campers who attend our Contact Football Camps learn the proper techniques in a safe and controlled environment. Size, weight and level of experience are all considered when grouping our campers, with each one being guided under the supervision of college and professional coaches," states Mike de Surville, Senior Vice President of US Sports Camps.
Beginners are taught about their equipment and safety while more experienced campers take part in discussions on injury prevention and proper tackling techniques to eliminate the risk of concussions. The final day of camp features live scrimmages where campers have the opportunity to showcase the skills they've learned while at camp.
The US Sports Non-Contact Football Camps focus on skill development and re-inforce fundamentals, while gaining a solid foundation before their upcoming seasons. "Non-contact camps are a fantastic introduction into the sport, allowing campers the opportunity to gain a further understanding of the sport while also developing and setting goals". says de Surville.
Campers, Parents, and Coaches interested in the 2016 US Sports Football offerings and locations can visit http://www.ussportscamps.com/football/usscfootball/ or call 1-800-433-6060.
About US Sports Camps
US Sports Camps (USSC), headquartered in San Rafael, California, is America's largest sports camp network and the licensed operator of Nike Sports Camps. The company has offered summer camps since 1975 with the same mission that defines it today: to shape a lifelong enjoyment of athletics through high quality sports education and skill enhancement.