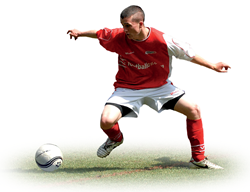 We're really excited about the Stalybridge trials giving more young people the chance to demonstrate their skills and abilities.
Corby, Northants (PRWEB UK) 17 August 2013
Following the success of previous open football trials in the Manchester area, FootballCV is hosting a further trial on Sunday 15th September 2013 at Bower Fold Stadium, home of Conference North Side, Stalybridge Celtic FC, Greater Manchester.
For many aspiring footballers, the chance to play their favourite sport at a top professional ground in front of scouts and managers from clubs all over the UK, is a dream come true; FootballCV helps that dream come true and enables young players to experience the thrill of taking part in an open trial in front of scouts and managers from the premiership, football league and non-league clubs in the UK.
Tom Fehler from FootballCV explains: "Our trial days are open to players of all ages; we hold an average of 35 events during the year at many different venues around London, Birmingham and Manchester areas.
"Since we first started over 12 years ago, we've had many success stories; the most recent being Calaum Jahraldo-Martin signing a professional contract with Premier League side, Hull City Tigers."
The open trials are split into age relevant groups: over 18's, under 18's, under 16's, under 14's and under 12's. The player gets to choose the position they want to play for their relevant age group. On the day of the trial they get to play a 45 minute game to show off their talent.
Membership of FootballCV brings with it added benefits such as having an online profile on the FootballCV database which can be viewed by managers and scouts at any time during the year, as well as the chance to play at professional club grounds, enter monthly competitions, receive discounts on merchandise and much more.
All the FootballCV staff are fully qualified and have completed CRB checks and Child Protection Courses. They employ qualified coaches, physiotherapists and a Child Protection Officer.
As well as running football trials throughout the year, FootballCV also run trials camps during school holidays which are designed to give participants exposure to scouts from professional football clubs along with the opportunity to learn what it takes to be a professional. These camps include visits from a professional player, a nutritionist and a strength and conditioning coach, culminating in a trials day in front of a number of top scouts.
"We're really excited about the Stalybridge Celtic trials giving more young people the chance to demonstrate their skills and abilities. For people based closer to the Midlands, our next football trials take place at Corby Town Football Club, Northamptonshire on Sunday 29th September 2013 and Oxford City FC, Oxford on Sunday 13th September 2013" Concludes Tom.