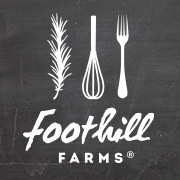 St. Louis, MO (PRWEB) February 26, 2015
Foothill Farms®, St. Louis based, foodservice manufacturer of dry seasonings, sauces, dressings, and desserts, is offering a money-saving rebate for their Ranch Salad Dressing mixes (V400, V402). The promotion runs through May 31 and offers operators a $2 rebate per case (up to $200) on Ranch Dressing Mix products, plus a free first case of Blue Cheese, Lido Italian, 1000 Island/Honey Mustard, and Caesar Dressing Mix.
This money-saving offer is available to foodservice operators in the U.S. only. Please visit the webpage for more promotion details or download the rebate form http://doclibrary.com/MFR457/DOC/FoothillFarmsDressingRebate20155452.pdf.
About Foothill Farms®
Foothill Farms is a registered trademark of Kent Precision Foods Group, a dry-blending and packaging food company specializing in providing finished products for customers in foodservice, industrial businesses and consumer products. Customized products produced vary widely and include salad dressing mixes, frozen desserts, seasoning blends, stuffing mixes, seasoned rice and sauces. Flavorwise™ products were created to help offer more options without sacrificing taste. All products with the Flavorwise designation are conscious of sodium (containing 310 mg or less), fat and cholesterol and do not contain added MSG, so customers can make smarter choices. Learn more about the brand by following them on Facebook, Twitter, Google+, Pinterest and their blog, foothillfarmsblog.com.