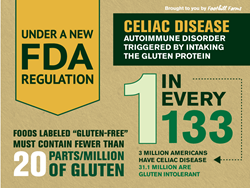 The foodservice industry can't ignore dietary trends, more and more people are eliminating gluten because of dietary restrictions or lifestyle choices.
ST. LOUIS, MO (PRWEB) May 29, 2014
One in every 133 Americans has Celiac Disease, an autoimmune disorder triggered by consuming gluten protein. Because of this statistic, Foothill Farms®, a foodservice company specializing in dry-blended seasoning, sauce and dressing mixes, created an infographic titled A Foodservice Guide to Gluten Free. The infographic informs restaurant owners about the importance of offering gluten-free menu items. It contains relevant data from leaders in the foodservice and research industries illustrating trends in dining behavior, popular gluten free menu items, and tips to ensuring a gluten free dining experience. The infographic also details a new FDA regulation that determines how much gluten can be in a product before it can legally be labeled gluten-free.
Foothill Farms® offers 67 gluten-free products, including mixes for dressings, gravies, sauces, soup bases, cheese sauces, seasoning and desserts. Recently, the company created an easy reference sell sheet for operators wanting to offer gluten-free menu items, now located on their website under the resources/marketing materials tab. For K-12 customers, they expanded the gluten-free sell sheet and targeted a wider scope of dietary restrictions. The Kids' Allergens, Intolerances and Special Diets sell sheet features Flavorwise™ products in an easy chart that showcases gluten-free products as well as products free from nuts, crustaceans, lactose, HFC, no added MSG and vegetarian products. It is also housed at foothillfarms.com.
The gluten-free eating trend is on the rise and restaurant owners and chefs are taking note. "The foodservice industry can't ignore dietary trends," said Luann Schafer, senior marketing manager, "more and more people are eliminating gluten because of dietary restrictions or lifestyle choices." Gluten is a protein found in wheat, barley and rye. If a person with Celiac or gluten-sensitivity chooses a dish at a restaurant that is labeled gluten-free, they do so for health reasons. If they get sick with symptoms similar to a gluten reaction, they will likely not return for a second dining experience. Secondly, if a family member is gluten-sensitive or has Celiac Disease they are likely to influence dining decisions. The infographic that Foothill Farms® created addresses important concerns for operators including cross contamination.
About Foothill Farms®
Foothill Farms is a registered trademark of Kent Precision Foods Group, a dry-blending and packaging food company specializing in providing finished products for customers in the foodservice, industrial and consumer products businesses. Customized products produced vary widely and include salad dressing mixes, frozen desserts, seasoning blends, stuffing mixes, seasoned rice and sauces. Foothill Farms® Flavorwise™ products were created to help offer more options without sacrificing taste. All products with the Flavorwise™ designation are conscious of sodium, fat and cholesterol and don't contain added MSG, so customers can make smarter choices.