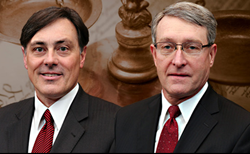 For Tapella, teaching the lecture gives him the opportunity to examine and evaluate his and the firm's practices.
St. Louis, MO (PRWEB) April 30, 2015
Bill Tapella, a partner the law firm Tapella & Eberspacher LLC delivered a guest lecture this spring at the University of Illinois Law School. The lecture was given in a class called "Preparing and Taking a Deposition."
The class was comprised of roughly 30 second- and third-year law students, and the subject matter covered how and why an attorney would want to depose a witness. Anyone who has any information about a legal case can be deposed, and Tapella taught the students in the class how to prepare for the deposition and effectively question the witness.
He also discussed the significance of witness depositions and offered real-life examples of questions and testimony for depositions in actual cases. The real-life examples were taken from Tapella's own publicly accessible case results. Tapella taught the class at the request of Professor James Kerns, an adjunct professor at the University who teaches pre-trial litigation.
For Tapella, teaching the lecture gives him the opportunity to examine and evaluate his and the firm's practices.
"Any type of lecture, whether to lawyers at a continuing education seminar or law students, gives me an opportunity to consider the fundamentals of the practice and examine our own practices," Tapella said. "That process is always invaluable for us as a firm and me as an attorney."
Tapella also says that he hopes the lectures are beneficial to the students since they are provided with real-life examples of what working as an attorney is actually like.
"In my own law school experience, there was little by way of 'nuts and bolts' education concerning the practice of law and the day to day activities of a practicing attorney," Tapella explained. "I hope that I give the students a glance at the realities of the practice of law and some perspective into what they will encounter as they embark on their careers."
About Tapella & Eberspacher LLC
Tapella & Eberspacher is based in Illinois and handles cases throughout Illinois and Missouri. Their lawyers have experience in a wide range of cases, including personal injury, nursing home negligence, car accidents, medical malpractice, business law and more. They offer free evaluations to help potential clients determine whether or not they have a legitimate case worth pursuing. To learn more about their experienced legal team, visit http://foryourjustice.com or Contact Us.
Tapella & Eberspacher LLC
foryourjustice.com
attorneys (@) foryourjustice (dot) com
(314) 588-8500
7777 Bonhomme Ave, Ste. 2301
St. Louis, MO 63105