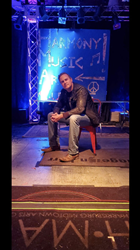 My goal is to help make Harrisburg a thriving music scene and put us back on the map. This is my destiny, and I won't stop until we achieve what we're setting out to accomplish.
HARRISBURG, Pa. (PRWEB) October 01, 2019
Even when Chris Werner was grading papers and teaching youngsters as a public school teacher in York, PA, his dream was "always to operate a music venue." Now, the 42-year-old entrepreneur's wish is a reality. The life-long York County resident is the newest investor in the Harrisburg Midtown Arts Center (HMAC), along with his two partners, Chuck London, a former network TV producer and executive; and Javier Diaz, an investment banker and businessman who recently purchased the live music venue and arts center located at 1110 N. 3rd Street in Harrisburg.
"Music was always an interest of mine because of my father Craig," said Werner. "He taught me all about rock 'n roll since I was a kid and has been my biggest supporter. I intended to be a DJ, but I did the 'right thing', went to college, got a master's degree in education from York College, taught elementary school for 12 years, but all the while I was completely obsessed with live music." After teaching class, Werner says he would go to concerts in New York, Philadelphia and Washington DC to see live performances. He admits that he graded papers at concerts, and might have been a little bleary-eyed during a few early morning lessons, but was having a blast burning the candle at both ends like many 20-somethings do. "I always had an obsession with meeting the artists. I would do anything possible to meet the bands when attending shows, and then I started collecting their autographs." That obsession eventually turned into a business when Werner started selling autographed memorabilia for profit. "I quickly realized there was a market for that, and I had amassed an amazing collection of autographs from artists that I had accumulated throughout my life." In 2011, Chris was able to quit his day job (teaching) to focus solely on his passion, and decided to launch Lifetime of Autographs, which is considered one of the top music memorabilia businesses in the U.S. (or world?).
Werner recalls the first time he stepped into HMAC. It was to see Bob Mould, known for his alternative rock bands Sugar and Husker Du. "I immediately fell in love with the venue, the vibe the different types of people. Back then, it was just Stage on Herr — a small room with church pew seating. I saw massive potential in the space, and when I was presented with the opportunity to become an investor last spring, I decided to leverage everything to finally live my dream of owning a live music venue."
"HMAC is not a typical music venue," added Werner. "We can accommodate 1,000 revelers in the Capitol Ballroom. We're constructing amazing green rooms and expanding with an additional state-of-the-art stage, which I'm certain will be one of the best nightlife attractions in Harrisburg when it's completed in early 2020. We curate so many different genres of music at HMAC, which is what makes the venue so special." In addition to music, Werner envisions hosting weddings, community outreach events, charity balls, performance art and even professional wrestling events. "My hope is that HMAC will be the epicenter of live arts in Harrisburg — the place where everyone wants to go and feels comfortable. My goal is to help make Harrisburg a thriving music scene and put us back on the map. This is my destiny, and I won't stop until we achieve what we're setting out to accomplish. I didn't choose this life, it chose me."