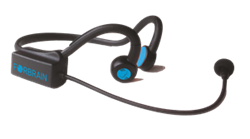 Using the device is easy and intuitive: simply wear the headset, switch it on, and speak for a few minutes every day to improve speech.
Miami, FL (PRWEB) February 11, 2014
Many people don't know that the sound of a voice is really just vibrations. The creators of Forbrain® have found a way to enhance those vibrations before the brain analyzes them, creating a revolutionary new device that can help users improve their speech. Using a technique that is often used by speech-language pathologists and speech therapists, the Fobrain® allows people to practice their speech therapy at home in their spare time.
People who hear their own voice on tape are often surprised at the way it sounds. This is because they are only experiencing the sound of their voice through their ear canals. When a person hears themselves speak normally, the sound has resonated through their head and reached the ears via bone conduction, rather than air conduction. Sound travels through facial bones about ten times faster than it does through the air, which is why a person's voice sounds different to them when they hear it on a recording. The brain typically puts all of the information it receives together via sensory integration, which is a crucial part of phonological awareness, or the comprehension of language.
A startup company, Sound for Life Ltd., has developed a revolutionary patented device to aid speech and auditory processing that uses a natural process called auditory feedback. They recently introduced Forbrain®, a headset that uses groundbreaking technologies to create an enhanced audio-vocal loop that enables users to improve their speech. Using the device is easy and intuitive: simply wear the headset, switch it on, and speak for a few minutes every day to improve speech. It was designed for children and adults with speech difficulties, including problems with pronunciations, articulation, and fluency. The easy-to-use device may also enhance memory and concentration.
Forbrain® was developed using two revolutionary technologies based on years of sound therapy research. These are bone conduction transducers and a dynamic audio filter. The electronic dynamic filter instantly analyzes and enhances the user's voice, amplifying the frequencies, rhythms and color to help users comprehend and adjust their own voice. Developed in coordination with Aftershokz LLC, the world leader in bone conduction technology, Fobrain® uses transducers that are placed on the facial bones just outside the ears. The sound resonates through the facial bones, which the brain then processes via sensory integration into crystal clear speech.
Forbrain is an ideal tool for speech-language pathologists and occupational therapists to use to enable their clients to practice between sessions. An affiliate program is available for therapists who wish to recommend Forbrain® to their clients. The introductory price is $359.00 for the headset, an educational support guide, a user's guide, 3-5 day delivery and a 2-year warranty.
Having officially launched on January 1st, thousands of Forbrain headsets have already been purchased by people with sensory integration issues and auditory processing disorders, such as speech delays. The company aims to be the leader in the field of auditory, speech, and listening programs.
There are reviews available for Forbrain on the American Speech-Language-Hearing Associations guide.
For more information, please visit http://www.forbrain.com/.