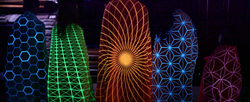 "Force Fields Are Not Just A Fun Product, They Are A Solution"
Minneapolis, Minnesota (PRWEB) September 13, 2017
Children's fear of the dark finally defeated with New Force Field™.
Within one week of its month-long Kickstarter campaign, the Glow Company of Minneapolis, MN reached its sales goal of $25,000, as the company officially began accepting pre-orders for its Force Field™ Glow-in-the-Dark Cloaks. At KickStarter.com you can watch an informational product video and have the opportunity to pre-order, at a discount, the very first Force Field™ Cloaks for Christmas delivery. Supply is limited and will not be sold elsewhere this year.
Parents have long struggled with how to handle their child's fear of the dark, and simply telling them that monsters don't live under the bed tends to fall on deaf ears. Parents around the world rejoice; there is an end in sight! Finally, something that works based on how children think. Terry Sachetti, inventor and CEO of The Glow Company, has revolutionized the approach of dealing with children's fear of the dark with a product that is undoubtedly the best solution since the invention of the nightlight. When testing this product, the first thing children said when the lights went out is "WOW!" quickly followed by "I want one!"
Just like most children, Sachetti remembers his own nighttime fears when he was young, "My imagination would get the best of me. I feared that someone or something would grab my foot as it poked out from under the covers. When that happened, I would put my foot back under my blanket where I knew I was safe. It seemed nothing could get me under my blanket. Sound familiar?"
"That's when I had the idea to make something that looked like what we had already given our blankets the power to do," Sachetti said. "I came up with the idea of a Force Field™. Everyone knows that a Force Field is the ultimate protection shield and now, children can have their very own Force Field to protect them from their fears."
These Force Fields have glow-in-the-dark patterns that glow brighter than a nightlight. "I created the Force Field™ Cloak so you can use it anyway you like," he said. "Put it on your bed, wear it as a cloak, or even place it on an object that you feel needs Force Field™ protection." Imagine the comfort a child would feel when using the cloak on their dreaded trip to the bathroom in the middle of the night, where they may fear seeing monsters along the way. Force Field™ makes bedtime less fearful and more fun. It turns Fear of the Dark into Fun In The Dark. To learn about the characters and story involved, visit ForceFieldFun.com.
Aaron Bible, CEO of The Glow Company, states, "The Force Field™ is a glow-in-the-dark protective shield that is used as a cloak or whatever a child's imagination can think of. They come in five different colors with five glow-in-the-dark designs and different glow colors". The Force Field™ Cloak uses a high grade, proprietary formulated glow-in-the-dark ink that is organic and nontoxic and is 100% child safe. Force Field Cloaks will glow for over 8 hours and it only takes about 20 minutes to charge up under a bright light. Within one minute, you can supercharge the Force Field™ by simply using sunlight or a black light. The longer you charge it, the brighter it glows. Cold water wash, air tumble dry, no iron, no bleach. It is made out of quality cotton-polyester blend material with fleece on the backside for comfort. Each Force Field™ is 54" x 40". The suggested retail price of the Force Field is $39.95. Force Field is the ultimate protection that defeats nighttime fears.
More detailed information about the Force Field, its story and its endeavors to fight monsters can be found on the Kickstarter.com campaign now. Force Field (Patent Pending) is a registered Trademark.
Interview Contact
Terry Sachetti Inventor
833-909-0909
Terry(at)TheGlowCompanyLLC.com
https://ForceFieldFun.com
For Sales Contact
Aaron Bible CEO Aaron@TheGlowCompanyLLC.com
833-909-0909
For media kit complete with web and print quality product images, videos and logos please send press credentials and E-mail address to
terry(at)theglowcomanyllc.com
Force Field Cloak Video: https://youtu.be/P1wrMrPhyn8
Hash Tags: #ForceFieldCloak #ForceField
https://www.facebook.com/ForceFieldCloak
https://twitter.com/ForceFieldCloak
https://www.instagram.com/ForceFieldCloak/
https://www.linkedin.com/in/terrysachetti/
https://www.pinterest.com/ForceFieldCloak/boards/
https://plus.google.com/u/0/collection/kN2zIE