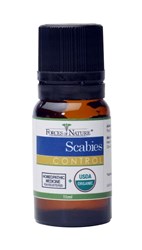 "Scabies Control has a major point of difference because it is certified organic. It represents the most powerful natural treatment on the market. I have seen nothing else out there like it." - Dr. Peter Klapper, CEO
Sonoma, CA (PRWEB) December 19, 2013
An incredibly itchy skin condition, scabies is characterized by intense itching, stinging and an uncomfortable rash; left unattended, scabies will not go away on its own. It is contagious and scabies mites, invisible to the naked eye, spread like wildfire. A brand-new treatment – and the first certified organic home scabies treatment that is available over-the-counter – Scabies Control from Forces of Nature is a highly effective and powerful scabies remedy with targeted anti-inflammatory ingredients that provide soothing relief for the skin.
Scabies Control is 100 percent USDA Certified Organic, with no chemicals or harmful ingredients, so it is safe for people and good for the environment; it smothers the scabies bug with naturally occurring phytochemicals while relieving itching. The new treatment offers rapid absorption, penetrating deep into the skin.
"The scabies mite is extremely hardy. My personal experience has shown that once infected, scabies can be effectively treated by natural methods. Naturally occurring phytochemicals in medicinal plants have shown the ability to kill scabies. In particular, combining certified organic homeopathic medicines with powerful organic essential oils, as represented in Scabies Control," said Dr. Peter Klapper, CEO, Forces of Nature. "What I find particularly helpful about Scabies Control is it provides a pronounced therapeutic effect to immediately ease the intense itch while also supporting the needs of the body to fight the infection via the homeopathics."
Safe for use on anyone over the age of 2, Scabies Control offers:

Fast, dependable results when it comes to fighting scabies
Rapid absorption, deep-penetrating action and a powerful anti-inflammatory response
A safe and natural way to fight scabies infections
Activation of the body's immune system to naturally fight the infection
Soothing relief for the skin
Scabies Control was developed in-house by the Forces of Nature medical team, including Dr. Mair Mckinnon, a naturopathic doctor, and a Forces of Nature staff biologist specializing in plant medicine, CEO Dr. Peter Klapper.
Forces of Nature stands behind its products, offering an unprecedented one-year money-back guarantee to demonstrate its high level of product confidence. The company's mission is to provide innovative natural medicines which deliver results to bring healing to the world.
Forces of Nature is dedicated to well-being and supporting a chemical-free environment. The company's aim is to stop focusing on symptom management, and deliver real solutions, working to heal illness at its core.
For more information on Scabies Control as well as Forces of Nature's full line of natural remedies, please visit http://www.forcesofnatureusa.com.
About Forces of Nature
Forces of Nature is the only worldwide manufacturer of FDA registered certified organic medicines. These natural treatments target hard-to-treat conditions including varicose veins, herpes, hemorrhoids and warts using a 2-in-1 approach that merges the power of healing botanicals with proven homeopathic drugs. Forces of Nature organic medicines are manufactured in a USDA Certified Organic and FDA registered facility and are backed by a one-year, money-back guarantee. Forces of Nature's treatments are available online internationally (http://www.forcesofnatureusa.com, http://www.forcesofnature.eu), in pharmacies and in Whole Foods and Sprouts stores nationwide.