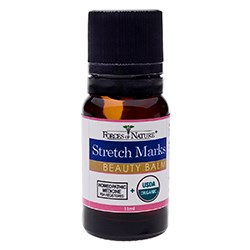 "We are very proud to offer this unique blend of non-toxic, safe and effective ingredients designed to target stretch marks and promote beautiful, healthy skin." - Dr. Peter Klapper, CEO
Sonoma, CA (PRWEB) January 02, 2014
Pregnancy, weight loss and holiday weight gain can all contribute to stretch marks on the body. People struggling with stretch marks have a new, safe and organic option on their side: Stretch Marks Beauty Balm from Forces of Nature.
A true force when it comes to removing stretch marks, Stretch Marks Beauty Balm is comprised of certified organic ingredients – which means no toxins, no pesticides, no dangerous substances. It is made in an FDA-registered laboratory and is 100 percent USDA Certified Organic, unlike other remedies for stretch marks.
Instead, organic helichrysum oil from Corsica speeds cellular growth and assists the healing process, reducing stretch marks with its anti-inflammatory properties. Likewise, certified organic lavender oil penetrates the skin and offers healing as well as rosemary verbanone chemotype, which is recognized for its regenerative properties. Finally, certified organic rose hip seed oil from Chile further supports healing, regeneration and beautiful skin.
"We are incredibly picky about every single ingredient that goes into a Forces of Nature product, and Stretch Marks Beauty Balm is no exception," said Dr. Peter Klapper, CEO, Forces of Nature. "We are very proud to offer this unique blend of non-toxic, safe and effective ingredients designed to target stretch marks and promote beautiful, healthy skin."
Forces of Nature's Stretch Marks Beauty Balm offers:

Guaranteed results
100% certified organic stretch marks treatment
Rapid absorption for quick results without complications
Safe, non-toxic ingredients
Manufactured in an FDA-registered facility
Naturally occurring phytochemicals to heal damaged skin
When applied to the skin two to three times per day for a couple weeks, noticeable results are guaranteed.
Stretch Marks Beauty Balm was developed in-house by the Forces of Nature medical team, including Dr. Mair Mckinnon, a naturopathic doctor, and a Forces of Nature staff biologist specializing in plant medicine, CEO Dr. Peter Klapper.
Forces of Nature stands behind its products, offering an unprecedented one-year money-back guarantee to demonstrate its high level of product confidence. The company's mission is to provide innovative natural medicines which deliver results to bring healing to the world. Forces of Nature is dedicated to well-being and supporting a chemical-free environment. The company's aim is to stop focusing on symptom management, and deliver real solutions, working to heal illness at its core.
For more information on Stretch Marks Beauty Balm as well as Forces of Nature's full line of natural remedies, please visit http://www.forcesofnatureusa.com.
About Forces of Nature
Forces of Nature is the only worldwide manufacturer of FDA registered certified organic medicine. These natural treatments target hard-to-treat conditions including varicose veins, herpes, hemorrhoids and warts using a 2-in-1 approach that merges the power of healing botanicals with proven homeopathic drugs. Forces of Nature organic medicines are manufactured in a USDA Certified Organic and FDA registered facility and are backed by a one-year, money-back guarantee. Forces of Nature's treatments are available online internationally (http://www.forcesofnature.eu, http://www.forces-of-nature-asia.com), in pharmacies and in Whole Foods and Sprouts stores nationwide.