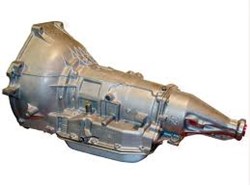 We've supported the C4 since we started selling online and it has become one of the most requested units for Ford vehicles.
Cleveland, OH (PRWEB) August 23, 2013
Classic parts for vehicles remain in demand with collectors and car restoration specialists. Finding vintage parts that are genuine builds is a struggle for many people. The GotTransmissions.com company is now helping buyers to find better parts that retain warranty protection. This company has added its Ford C4 transmission online with a new two-year warranty at http://www.gottransmissions.com/blog/ford-transmissions/ford-transmissions.
The C4 transmission was first created and installed in vehicles in 1964. The production of this three-speed gearbox remained until 1981 when development ceased in favor of the C5.
These classic units can be found through some online sources although the quality is harder to verify. The Got Transmissions builds that are now offered give buyers a no-hassle two-year warranty attachment with each sale.
"We've supported the C4 since we started selling online and it has become one of the most requested units for Ford vehicles," said a spokesman from the Got Transmissions company.
Locating vintage auto parts from dealers not specializing in classic parts can bring a range of quality issues to buyers seeking the best replacement for their investment.
The attachment of the two-year warranty program this year marks a new milestone for this company. The original limited warranty that has been promoted with previous editions of the company gearboxes has been updated to include more OEM parts coverage. This warranty is now among the largest in length of term and coverage inclusions found through a secondary gearbox seller online.
"Warranties for any used auto part are absolutely essential for buyers seeking the longevity expected in classic vehicles," the spokesman added. Changes to the warranty policies are one recent example of updates made to policies enacted by this company online.
The Ford transmission warranty adjustments that are now announced are in relation to Chevrolet warranty changes made earlier in 2013. These two automaker brands represent the highest selling units in the Got Transmissions inventory. Future warranty updates and changes to existing inventory are expected for announcement.
About GotTransmisssions.com
The GotTransmissions.com company sells replacement transmission units that are built in automatic and manual editions. This company sources all of its inventory from automotive distribution companies selling inside the secondary market in North America. The GotTransmissions.com company currently promotes Ford, Jeep, Dodge, Chevy, Chrysler, Plymouth, Honda and Toyota units for sale from its simple to search website online. The limited warranty options and discount price structures used help offer consumers alternatives to higher prices in the transmissions industry. The online search systems provided produce quotes in price for all buyers.