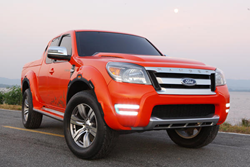 A brand new OEM module can cost hundreds of dollars when going to a truck dealership for a replacement, and we're promoting low cost inventory that is in preowned condition
Miami, FL (PRWEB) April 03, 2015
The use of computer systems and electronic devices in auto manufacturing has been active in the United States since the mid 1980s. Consumers who buy used components will now be able to search the CarPartsLocator.com website for Ford F150 control modules for sale on the web at http://www.carpartslocator.com/ford-f150-engine-control-module.
The modules that are now offered for public sale are clean units that have been checked for compatibility in all F150 truck types. Because each module can be programmed for a different motor type, a consumer who searches the used control modules inventory now provided can select inventory that is compatible with V6 or V8 engines.
"A brand new OEM module can cost hundreds of dollars when going to a truck dealership for a replacement, and we're promoting low cost inventory that is in preowned condition," said a Car Parts Locator source.
The replacement components for Ford pickup trucks that are now searchable when using the CarPartsLocator.com website are provided with warranty terms upon sale completion. Because the network of suppliers distributing the parts ship from different areas of the U.S., sale pricing and warranty policies could be different.
"Our network of salvage, second hand and auto junk yard suppliers found in our computer database makes it easier to find early 1980s to the current year auto parts for sale," said the source.
Users of the Car Parts Locator website this year will be able to search and select more than Ford truck parts online. The brands of Dodge, Chevrolet, Ram and Jeep can be located with a regular search to find control modules, PCM or body control modules that are in above average used condition.
About CarPartsLocator.com
The CarPartsLocator.com company supplies used condition auto parts acquired through junk and salvage companies to consumers at discount prices. The company has established one of the first automated finders for preowned OEM components. The CarPartsLocator.com company exists to provide a way to find older and late model automobile parts or accessories across the country.