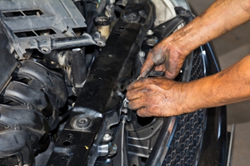 It is now more of a challenge to locate vehicle parts that are older than 10 years in ago due to terminated technologies at major auto engineering facilities
Dallas, TX (PRWEB) April 20, 2015
The Freestar vans that were in use between 2004 and 2007 in the United States are now supported for replacement engine inventory at the PreownedEngines.com company this year. There are now Ford Freestar 4.2L used engines listed for public sale to mechanics or owners of vans who need a quality block at http://preownedengines.com/used-ford-freestar-4-2l-engine.
The classic Essex technology that is featured in the 4.2L V6 builds that are now for sale is no longer supported at the Ford Motor Company. The 6-cylinder builds that are now in use nationally feature the upgraded Ecoboost technology. The out of production Freestar van motors now for sale are expected to fill a void in the used motors industry nationwide.
"It is now more of a challenge to locate vehicle parts that are older than 10 years in ago due to terminated technologies at major auto engineering facilities," one PreownedEngines.com source said.
The used automobile and van motors inventory that is being supplied on a national level at the POE company for 2015 now features the Windstar and Freestar brands. The 3.9 and other V6 blocks that fit into classic minivans built by Ford can also be purchased at a sale price level for the rest of the year.
"Suppliers in the U.S. that are now helping to build our listed inventory online include salvage and wholesale partners," said the source.
The Preowned Engines company is now able to accept web pricing requests through use of its warehouse stock tool. Visitors to the company website will have the ability to request prices or speak immediately to a customer service rep to explore what discounts and shipping programs are now in place.
About PreownedEngines.com
The PreownedEngines.com company promotes nationwide shippable inventory of automobile engines to consumers through its website. The company now lists thousands of motor blocks that are available for retail sale. The PreownedEngines.com company lists its inventory that is fulfilled by new suppliers inside of its components database available to explore on the web.