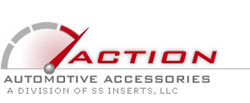 To place an order for a mustang billet grille with free shipping please visit Action Auto online at www.actionautoaccessories.com
Phoenix, AZ (PRWEB) July 02, 2014
Action Auto Accessories, a leading web retailer of auto accessories and parts, is now offering free shipping on their complete line of Mustang billet grilles and aftermarket parts when ordered online at http://www.actionautoaccessories.com.
Action Auto has been a major player in the Mustang and Corvette parts scene for many years. The company offers a wide selection of original and aftermarket parts and accessories for the Corvette, Mustang, and GTO enthusiast, along with many other makes and models of muscle cars. The owners of the website are dedicated to enthusiasts who need new parts or accessories for their favorite vehicles, or those who just have an interest in adding a few extra pieces to their completed car projects.
Action Auto Accessories features a wide selection of products, including polished billet grilles, panel stripe kits, inner fender covers, headlight covers and stainless steel inserts just to name a few. The company specializes in Corvette accessories and Mustang accessories, but also provides products for Camero, GTO, Hummer, Celica, Challenger, Thunderbird and many, many others.
To place an order for a mustang billet grille with free shipping please visit Action Auto online at http://www.actionautoaccessories.com