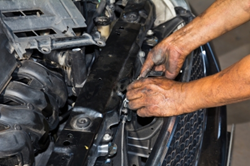 The Vulcan is no longer in production at Ford Motor Company, and consumers can only find inventory from second hand retailers like us online
San Diego, CA (PRWEB) March 30, 2015
The classic V6 motors that were produced by Ford between the production years of 1986 and 2005 can now be purchased at a lower price from one preowned inventory seller on the web. The Pro Auto USA company is now introducing a lowered price for Ford Vulcan 3.0-liter used engines through its website at http://parts.proautousa.com/used-ford-vulcan-3-0-engine.
Consumers who are searching for motor replacements can now pay less to own the 3.0 series blocks available. Because the Vulcan series was used in many sedan vehicles, there should be no compatibility issues with most Ford or Mercury vehicles. The V6 series discounts now applied at the Pro Auto USA company will remain throughout the year.
"The Vulcan is no longer in production at Ford Motor Company, and consumers can only find inventory from second hand retailers like us online," said one Pro Auto USA rep.
The issuance of lower prices for select used Ford motors this year is one of the strategies that are in place to offer a package of incentives to consumers. Apart from the reduced sticker prices for the 3.0-liter builds, consumers can still take advantage of the no charge deliveries that are being offered to most parts of the country.
"We're supporting more older Ford motors in used condition inside of our public inventory that consumers can purchase at lower price points," said the rep.
The Pro Auto USA website now features a toll-free phone line that is available to call seven days a week. A new parts staff providing assistance for price research, VIN lookups and shipment inquiries can now be reached by phone at 1-888-230-1731.
About Parts.ProAutoUSA.com
The Parts.ProAutoUSA company supplies one of the biggest consumer auto parts databases available to access on the web. The company finds and connects second hand retailers with consumers seeking automotive parts for sale. The Parts.ProAutoUSA.com company includes different partners in the auto industry inside of its national database for the public to review weekly.