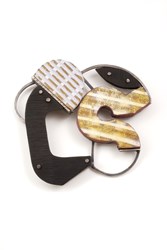 Your work has inspired me for years!!!
Philadelphia, PA and Santa Fe, NM (PRWEB) October 04, 2013
Steve Ford (Philadelphia Studio) and David Forlano (Santa Fe Studio) have begun video documenting their studio activities and uploading short videos to YouTube. With the ease of video capture and editing technology, Ford and Forlano are providing sneak peeks inside their studios. Ford/Forlano reveal some of the process behind their collaboration in this ongoing series as they create new works in Contemporary Jewelry.
As one of the most renowned creative collaborations in contemporary American craft, Steve Ford and David Forlano are providing some insight to their collaborative process. Their collaboration is unique in the field of American craft. This creative duo has been forging new territory since 1988. As one YouTube fan writes, "Your work has inspired me for years!" Since Forlano's move to Santa Fe, NM in 2005, many have wondered how they continue to work together. These videos aim to address some of the questions. "We often get asked questions about how our collaboration works and this is the perfect medium to help illustrate our collaboration," says David Forlano.
Using video capture on their smartphones, Ford and Forlano have been documenting moments in making. They each have their own studio and they are two time zones apart. They have been developing a body of work together since 1988. Those years of creating a singular voice in contemporary craft have established a dialogue that traverses all boundaries. These two artists work, primarily, in polymer clay. While maintaining a consistent style together, they each have developed their own ways of handling the material. Although Ford and Forlano taught many of the techniques they developed in the early 1990s, these videos are more about watching an artist at work in the studio. Like the early films where we watched Pollock and Picasso painting on glass, these videos ask us to simply observe the craft of making. Curator of the Newark Museum, Ulysses Dietz says, "Steven Ford and Dave Forlano's work represents, to me, the single most transformative influence in the world of polymer clay. They have ennobled a material relegated to preschools, and have developed a design vocabulary as deeply rooted in modern art as it is in craft."
About Ford/Forlano:
Steve Ford and David Forlano have been creating contemporary jewelry since 1988. Both artists are graduates in fine art from Tyler School of Art in Philadelphia and Rome in 1986. They first developed their work under the business name, "Cityzencane" and with the addition of precious metals in the 1990's changed the name to Ford/Forlano. Their collaboration and carrier has placed their work in many publications, galleries, public and private collections. They continue to forge new ground in contemporary American craft jewelry. For more information, visit http://www.fordforlano.com.