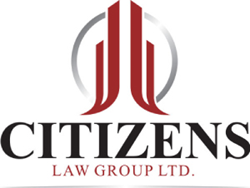 Our goal is to educate clients by providing them with viable options for stopping foreclosure and protecting their assets,
Chicago,IL (PRWEB) March 25, 2015
Citizens Law Group, LTD., the premier Chicago foreclosure defense law firm, is pleased to announce a new complimentary consultation for clients facing foreclosure in Chicago and surrounding area. Affected property owners can call 312-361-3833 or visit http://www.citizenslawgroup.com to sign up for their free consultation.
"The foreclosure process can be very intimidating for most homeowners. Our goal is to educate clients by providing them with viable options for stopping foreclosure and protecting their assets," said Josh Martin, founder of Citizens Law Group, LTD.
With the assistance of Citizens Law Group, homeowners can avoid foreclosure or prolong their stay in a home in a number of different ways. The appropriate action is often based on "whether the homeowner wants to keep the home," added Mr. Martin.
For those looking to stay in their home, a loan modification may be the best solution. In a loan modification, the homeowner either changes the terms of the existing loan or accepts a new loan. The end result can include a lower rate and a reduction in the principal balance making the monthly payments more affordable. Citizens Law Group has helped thousands of homeowners keep their homes by facilitating the loan modification process and guarantees more affordable terms for their clients.
For others that wish to part ways with their real estate, one of the most effective ways to avoid foreclosure and minimize the negative effects a foreclosure has on one's credit, is a short sale. With the lender's approval, the homeowner can sell the home for less than or short of the amount that is owed on their mortgage. This allows the homeowner to stay in their home until the house is sold and often receives assistance from the bank for relocation expenses. Homeowners that have a mortgage in excess of the value of their home are encouraged to contact Citizens Law Group's short sale lawyers at 312-361-3833.
To learn more about foreclosure defense options in Chicago including bankruptcy, homeowners should visit Citizens Law Group website. The Chicago foreclosure defense lawyers at Citizens Law Group, LTD have years of experience helping victims of foreclosure successfully find a solution.
Citizen's Law Group, LTD is a professional limited liability company that practices in several areas of the law including foreclosure defense, Chapter 13 bankruptcy, Chapter 7 liquidation/bankruptcy, residential and commercial short sales, title insurance, creditor harassment as well as debt settlement & consolidation. The firm was founded in September 2011 in Chicago and is headquartered at 2101 W Division St., Chicago, IL 60622. Along with the attorneys at Citizens Law Group, our staff is dedicated to assisting you through what can be a very difficult process.
Citizens Law Group, LTD is a debt relief agency that helps people file for bankruptcy relief under the Bankruptcy Code.