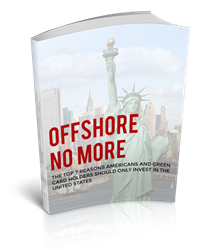 Deciding where to invest is a very difficult decision in your financial life, and deciding whether to invest domestically or abroad can have massive effects on the taxes you'll have to pay and the legal hoops you'll have to jump through
Detroit, MI (PRWEB) August 11, 2016
Freeman Tax Law, a tax law firm specializing in offshore bank account reporting and foreign banking, recently released an eBook for American citizens and residents looking to invest in the United States or abroad. The eBook highlights 7 reasons why Americans and Green Card Holders should invest in the United States and things to be aware of if one chooses to invest their money abroad.
"Deciding where to invest is a very difficult decision in your financial life, and deciding whether to invest domestically or abroad can have massive effects on the taxes you'll have to pay and the legal hoops you'll have to jump through," says Jeffrey Freeman, the founder of Freeman Tax Law. "This eBook explains how the U.S. is quickly becoming a favorable place to invest due to the current conditions with protections and reporting responsibilities, and will explain what you should look out for regardless of your decision."
The eBook, titled "Offshore No More", is a part of a series of content created by Freeman Tax Law that teaches crucial and need-to-know information about the most common foreign tax issues the firm manages.
The eBook can be downloaded for free through Freeman Tax Law's website at:
https://www.freemantaxlaw.com/offshore-no-more-ebook
To learn more about foreign vs. domestic investing, as well as the bank account reporting services of Freeman Tax Law, please visit:
https://www.freemantaxlaw.com/foreign-bank-accounts
About Freeman Tax Law:
Freeman Tax Law is a proven international tax law firm with particular focuses in analyzing difficult wealth management problems, IRS collections issues, and foreign bank account reporting. Through careful planning, negotiation, and execution, Freeman Tax Law has an excellent record of meeting and exceeding expected outcomes for their clients, and utilizes a team-based approach to cases through a multi-disciplinary defense team. Freeman Tax Law is headquartered in Metro Detroit, MI with satellite offices all over the world.