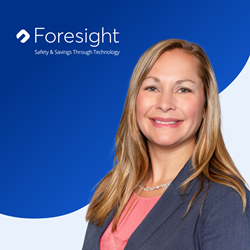 SAN FRANCISCO (PRWEB) June 03, 2021
Foresight Risk & Insurance Services, the commercial insurtech platform offering safety-driven pricing, today announced the hiring of Tara Ricketts as the company's Head of People to lead the organization in attracting and retaining exceptional talent.
Ricketts joins Foresight to assist the ongoing growth strategy of the company as it caters to an increasing demand for smarter commercial insurance for middle-market businesses. As part of her role, Ricketts will bring her human resources expertise to help Foresight's team in their efforts to grow a fully remote and collaborative workforce, attracting and employing talent from anywhere in the United States.
"Foresight gives me the opportunity to be creative and contribute in new ways as the organization grows," said Tara Ricketts, Head of People at Foresight. "My goal is to build a team that develops and contributes more than we knew was possible when our journey started."
"Insurtech growth starts with talent," says David Fontain, Founder and CEO of Foresight. "Tara will be instrumental in creating an incredible team dynamic within and across the Foresight group of businesses. In addition, the new remote-first world opens up many new recruiting opportunities to attract the best talent from anywhere in the country, and Tara's vast expertise will help us do so."
Prior to joining Foresight, Ricketts garnered more than 20 years of human resources experience, eight years specifically working in the insurance industry at American International Group (AIG). She led a team of human resources professionals and partnered with business leaders to plan, build and meet the needs of the workforce of the future. Prior to joining AIG, Ricketts held human resources roles within the manufacturing and healthcare industries.
Ricketts is certified as a Senior Professional in Human Resources (SPHR), is a SHRM Senior Certified Professional, and is a Developmental Dimensions International (DDI) Trainer. She has been a member of SHRM since 2003 and served on the Indiana State Council of SHRM for 3 years and on the Board of Directors for the Evansville-Area Human Resources Association for 7 years. Ricketts obtained a Bachelor of Arts Degree in Marketing and Human Resources from the University of Southern Indiana as well as a Master's Degree in Business Administration.
Foresight is the only commercial insurtech MGU to focus solely on the middle market, a sector loosely defined by workers compensation policies over $50,000 in premium. Businesses in this segment are more frequently partnered with brokers due to a more complex rating and binding process. Since launching in September 2020, Foresight has received $370M in risk submissions from commercial brokers on the platform and expects to exceed $50M in total written premium by the end of 2021. Foresight is now working with 165 appointed commercial agencies, including 14 of the top 20 agencies in the United States, according to the annual ranking by Insurance Journal.
Foresight is currently recruiting. To view current job openings, visit: https://www.linkedin.com/company/getforesight/jobs/.
About Foresight
Foresight is the first insurtech specializing in commercial coverage for the hard-to-place middle market. Our mission is to improve every business we underwrite, starting with workplace safety. Foresight wraps innovative risk management technology into every policy, reducing workplace incident frequency by up to 57% and giving policyholders the ability to earn lower premiums. Learn more about us at getforesight.com.